Promenades de Paris - La Place Vendôme
Place Vendôme
Promenades de Paris - la série:
•
l'Île-de-la-Cité
•
le Louvre et les Jardins des Tuileries
•
Le Palais-Royal
Today's promenade
As with the other promenades
we've taken in Paris thus far, we'll use
le Métro
to arrive at the beginning point of our walk.
Nous prenons ligne 1 du Métro à Palais-Royal-Musée du Louvre
. We will begin where we last walked, at
le Palais-Royal
. Stepping out of the
Métro
station, we turn west-north-west onto
rue Saint-Honoré
.
Saint-Honoré
is the patron saint of bakers. When Louis la Vache opens his
boulangerie
, it will be called
Boulangerie-Saint-Honoré
. As tradition goes, a young man named Honoré became the Bishop of
Amiens
in 554. During his service a number of miraculous events occurred, which spared farmers, millers, and bakers from natural disasters. Residents of France connected the miracles with
évêque
Honoré and in 1204 a Parisian
boulanger
built a chapel to commemorate him. Today, the chapel is no longer standing, but the name,
Saint-Honoré
, is etched in a gate leading to
Faubourg
and
rue Saint-Honoré
in the heart of Paris.
Saint-Honoré
As we saunter along
rue Saint-Honoré
, at
numero 256
is
Café Verlet
. We are drawn to this cozy lunch spot by the pleasingly pungent aroma of freshly ground coffee. Crossing
la rue
, at
numero 213
is the boutique
Colette
, named for the writer-actress who has
une place
named after her which we saw when we visited
le Palais-Royal
. Boutique
Colette
offers an eclectic assortment of clothes and accessories and is known as being the style mecca of Paris. In its basement is a water bar where customers sit at large, spartan tables and order from an extensive selection of bottled waters.
Ne vous faites pas de bile
- don't worry - there's food, too.
We'll turn right up
rue du Marché-Saint-Honoré
. At
numero 10
is
Le Rubis
(the Ruby), a wine bar famous for how little it has changed. Here among dust-covered
bouteilles du vin
, we could satisfy our appetite with hearty lentils with ham hock, salami sandwiches and a nice, puckery
tarte au citron
.
Le Rubis
At the north end of
la place du Marché-Saint-Honoré
, we will find a branch of the famous Parisian
boulanger, Poilâne
. We could step in for a pastry, had we not had the
tarte au citron
at
Le Rubis
. At
numero 33
is
Philippe Model
, famous for
chapeaux
, hats, as colorful as Easter eggs, delicately perched over the store.
Marché-Saint-Honoré
We'll pause for a moment and note the actual building of
le Marché-Saint-Honoré
. Louis la Vache is often very critical of modern architecture. Louis in particular hates
le centre Georges Pompidou
, a structure he feels would make sense (as a joke) in Legoland, but is horribly out of place in its location just north of
Forum des Halles
, not that Louis is fond of the current structure at
les Halles
. Louis is almost as critical of
l'opéra Bastille
. But, in Louis's opinion,
le Marché-Saint-Honoré
is modern architecture that works. It is a glass and steel structure that recalls the lamentably destroyed
Forum des Halles
, the former central market designed in 1872 by Baltard during the Haussmann renewal of Paris. It also, to a lesser degree, brings to mind another fine
XIX ème siecle
glass and steel structure,
le Grand Palais
. Le Marché-Saint-Honoré is a structure of grace and lightness. It is not truly a
marché
, but there is a fine furniture store, an Audi dealer and some offices for
BNP Paribas
in the structure. Louis thinks that perhaps in the past there was a market on the site, but he hasn't so far been able to verify that guess.
Now we'll step out of
le Place du Marché-Saint-Honoré
north onto
rue d'Antin
and then we'll veer onto
l'avenue de l'Opéra
, site of the beautiful
Opéra Garnier
.
L'opéra Garnier
Passing the opéra house, we'll turn left and south onto
rue de la Paix
and head toward
la Place Vendôme
. The world's most famous
joaillers
, jewelers, have set up shop along this street.
Entering
la Place Vendôme
, we might feel as though we've stepped into a vast and elegant outdoor salon. The façades surrounding us, serene and majestic, enclose the stately space almost completely, and their rhythmic regularity is so satisfying that even the traffic passing through does little to mar the place's aristocratic allure. Instead of a chandelier, the great bronze candlestick of Napoléon's column provides a central focus, and it's easy to imagine the occasions when
XVIII ème siecle aristocrates
danced here to celebrate royal weddings.
Today,
la Place Vendôme
is still a magnet for Old—and New—Money, as doormen usher guests into the Ritz Hotel and as façades that once fronted private mansions glitter with the city's densest concentration of diamonds. Shop windows of jewelers like Boucheron, Bulgari and Chaumet attract not only serious buyers with Swiss bank accounts, but strolling groups of recreational window shoppers.
If the whole ensemble resembles a Hollywood set, it's not surprising. In fact,
la Place Vendôme
was just that: an empty stage lined by imposing façades with nothing behind them and, in 1957, "
Love in the Afternoon
," with Audrey Hepburn and Gary Cooper was filmed here. Originally planned as the home of a royal library, scholarly academies and embassies, the place was launched in 1686, when Louis XIV authorized the construction of
la Place des Conquêtes
between a monastery on the
rue de Castiglione
and a convent on
la rue de la Paix
. Existing properties between them were expropriated (including the mansion of
le Duc de Vendôme
, whose title would eventually give the place its name), and work began the following year.
Under the direction of architect Jules Hardouin-Mansart construction continued for several years, but the project stalled in 1691 when money ran out. Finally the City of Paris, with the help of a group of speculators, took it up, renaming it
la Place Louis-le-Grand
, in 1699. The developers divided up most of the plots among themselves, and Hardouin-Mansart resumed work with another architect, changing the shape from the original rectangle to an octagon.
At this point, the façades looked much as they do today, with arched ground-floor windows, two floors of rectangular windows flanked by Corinthian pilasters and a top story of alternating rectangular and oval mansard windows. Projecting sections on the east and west sides matched the angled corner structures, and only two streets cut into the place,
rue de la Paix
to the north and
rue de Castiglione
to the south.
Behind those façades lay vacant lots, waiting for buyers to build what they pleased. Even today, an aerial view of
la Place Vendôme
shows an amazing hodge-podge of structures behind those matching fronts. And from the beginning, the whole ensemble was designed as a setting, not for a column but for a statue of the king.
Behind the orderly façades are a hodge-podge of buildings.
Unveiled in 1699, the statue, enclosed by an iron fence and standing on a white marble pedestal, resembled the one that stands in
la Place des Victoires
today. Over 20 feet high, it depicted the bewigged Louis XIV astride his horse, dressed as a Roman emperor, facing
la rue Saint-Honoré
with his arm extended to the right.
The value of the lots went up and down like shares on a nervous stock market, and the first building was not completed until 1702. Most went to financiers and
fermiers-généraux
(wealthy tax-collectors), giving rise to a popular jingle about royal statues: Henri IV was on the
Pont Neuf
with his people,
Louis XIII
in
la Place des Vosges
with his gentlemen and Louis XIV in
la Place Vendôme
with his financiers. By 1720, five years after the king's death, all work was finished.
Shortly before its completion, all remaining lots were bought by an enterprising Scotsman who would have a huge impact on France's economy. John Law, who'd studied banking in Amsterdam, had written a book called "Money and Trade Considered with a Proposal for Supplying the Nation with Money." Although the Scottish parliament rejected his proposal, Law received permission in 1716 to try his plan in France, heavily in debt as a result of Louis XIV's extensive wars.
But in Law's opinion, reduction of public debt was only an incidental result of his plan. He saw money as a creative force that would stimulate a larger national product and an increase in national power. The Mississippi Company he created acquired a trade monopoly on the French Louisiana territory, then bought out the French East India Company. His bank, which became the state bank, was soon pouring out paper money, and Law was made controller-general of France. A speculative frenzy ensued.
The plan worked well at first, and by 1719 Law, who lived with his family at
23 Place Vendôme
, was the most courted man in France. But the "Mississippi Bubble" soon burst, the result of political intrigue and speculative complications. Although none of it was directly attributable to Law, he and many others in France were ruined. On
le 17 juillet 1720
, a mob attacked his mansion and he narrowly escaped lynching. He died nine years later in Venice, a poor man.
Law was only one of a colorful cast of characters in
la Place Vendôme
.
Numero 16
was once the home of Austrian physician Franz Anton Mesmer, whose experiments gave us the word "mesmerize." Mesmer was convinced that astrological forces influenced health by means of an invisible fluid, and that a person could transmit these forces to others through "animal magnetism."
He became famous in Austria for therapeutic sessions resembling seances, during which patients sat around a liquid-filled vat, holding hands or grasping iron bars protruding from the solution, while Mesmer walked behind them, placing "healing" hands on them. Accused of practicing magic, he left Austria for Paris.
Moving into
la Place Vendôme
in 1778, he was soon attracting so many patients that he launched a two-tiered system: the rich got the doctor himself, the poor his valet. When the mansion became too small for his thousands of patients, he moved to
le X ème arrondissement
. He was eventually discredited; in 1784 an investigative commission including
Benjamin Franklin
and Antoine Lavoisier found that any cures were the result of "individual imagination." Mesmer retired rich but died forgotten in 1815.
La Place Vendôme
remained
la Place Louis-le-Grand
until the Revolution, when a mob toppled the king's statue and sent it to a foundry (only the huge left foot, now in
le Louvre
, survived). Renamed
la Place des Piques
(lances), the square in which the nobility once danced at royal weddings was soon displaying their guillotined heads.
In 1799 it was finally named
la Place Vendôme
, and when Napoléon wanted to commemorate the Battle of Austerlitz, he ordered that "there shall be erected ... a column [like that] erected at Rome in honor of Trajan. The column shall be surrounded by a pedestal adorned with an olive wreath, on which there shall be a statue of Charlemagne." But it didn't turn out that way. Raised in 1806, the stone column was covered with a spiraling bas-relief depicting the story of the battle, cast from the melted bronze of over a thousand Austrian cannons. Four years later it was topped by a statue, not of Charlemagne but of Napoléon, dressed as a Roman emperor.
From then on the column was subjected to the whims of successive regimes. After Napoléon's 1814 defeat, the statue was replaced by a giant fleur-de-lis. In 1833
Louis-Philippe
erected a new statue of Napoléon, this time in a long overcoat and little hat (now at the Invalides). Napoléon III replaced this with a copy of the original statue, which toppled, along with the entire column, in 1871 during the Commune, largely at the instigation of painter Gustave Courbet. In 1873 the column and its statue were restored and re-erected at the artist's expense, leaving him ruined.
During the Commune of 1870 - 1871, the statue of Napoléon, like Humpty-Dumpty, had a great fall.
Some art critics claim that the mammoth column (132 feet) spoils the proportions of
la Place Vendôme
, which was designed to hold a smaller statue. But, as John Russell writes in his book "Paris," "this is a case in which affection must be allowed to override aesthetics; most of us, I think, would be sorry to see the column pulled down."
A walk around today's
Place Vendôme
will gives us an opportunity not only to acquire (or admire) some of the world's finest jewelry, but to stroll through history. Let's start at
numero 1
:
L'hôtel de Vendôme
stands on the site of the private mansion that gave the place its name. Now a beautifully appointed boutique hotel, it once housed the embassy of the Republic of Texas, from its declaration of independence in 1836 to its admission to the Union in 1845.
Numero 7
houses the contemporary diamond designs of the jeweler Fred, and, in the adjoining courtyard, the discreet boutique called JAR (for Joel Arthur Rosenthal). By appointment only, select clients are admitted to this reclusive American-born jeweler's
atelier
, where one-of-a-kind creations are displayed in a museum-like setting. For the rest of us, the window usually displays one exquisite item.
The
Ministère de la Justice
occupies
numeros 11 et 13
, where the Revolutionary leader Danton lived with his wife in 1792. At the time, he was Minister of Justice (a coincidence, since the building did not house that ministry until 1815). However, he lost power as the Reign of Terror gained momentum and was guillotined in 1794. An interesting Revolutionary relic remains on the building - a standard
metre
in
marbre
, marble, placed there in 1795 to familiarize Parisians with the new unit of measurement.
Le Ministère de Justice
Le Ministère
is flanked by the Ritz Hotel, where the ghosts of Proust, Coco Chanel and Hemingway still haunt the halls. It's hard to imagine now what a groundbreaking event its opening in 1898 was.
César Ritz
, the Swiss farm boy whose hard work and original ideas elevated him from waiter to
hôtelier
, was managing a luxury hôtel in London when he decided to create a small, intimate and exclusive Paris hôtel, equipped and decorated with the very best, regardless of expense. The first Paris hôtel to offer private baths and suites of rooms, and the first to bear his name, it was a work of art. And although Ritz's obsessive attention to detail nearly led to a nervous breakdown, his hôtel was a success from the start. Today, having a drink at one of the hôtel's three bars - the charming terrace Bar Vendôme, newly decorated Bar Cambon or atmospheric Hemingway Bar—is a great way to experience the undeniable Ritz allure.
An awning at
numero 21
still carries the name of legendary couturier Elsa Schiaparelli, a reminder of the days when her elegant and witty fashions, some embroidered with designs by Jean Cocteau, were sold in her boutique at this address.
Where Law was nearly lynched, the Dubail and Cartier boutiques (
numero 23
) start an unbroken line of jewelers that encircles the rest of
la Place
. Parisian jewelers began settling here at the end of
le XIX ème siecle
, and it's been the center of the trade ever since. One of the first was Boucheron (
Numero 26
), which opened here in 1893. Its neighbor, Van Cleef & Arpels, moved into
numeros 22 et 24
in 1906, giving it an unrivaled eight windows on
la Place
. For those whose budget doesn't stretch to serious stones, most shops have introduced affordable boutique lines; some even carry perfume and accessories like handbags and sunglasses.
We wander from window to window to admire the displays. Tucked into the corner at
Numero 20
is legendary watchmaker Breguet. Napoléon and Wellington both wore Breguet watches at Waterloo, and he even supplied the imprisoned Marie Antoinette with a simple watch, perhaps to count her remaining hours.
Breguet's neighbor, Mauboussin, a sixth-generation family firm known for surprising color combinations of precious stones, recently renovated its boutique, creating the most accessible and inviting shop on the Place. Jewelry and accessories are displayed in a luminous decor of soft apple green, turquoise and lavender, with Deco-inspired chairs and sculpted wood tables. Its most unique feature is the
cave à diamants
, where glass cases, equipped with an ingenious sliding jeweler's loupe, display unset diamonds along with their quality ratings and price, ranging from a modest .19-carat stone at 240E to a 2.26-carat dazzler at 27,850E.
Continuing past Chanel and Piaget, wel find that
Comme des Garçons
and Swatch now occupy Dr. Mesmer's former clinic at
Numero 16
, while Chaumet, at
Numero 18
, is housed in the building where
Frédéric Chopin
spent his last months and died in 1849. The Chaumet boutique is typical of these security-heavy shops, where we must ring for entry. Inside, at velvet-topped tables, prospective buyers admire sparkling necklaces and brooches carried out from back rooms on little trays. One of Paris' most historic jewelers, Chaumet, founded in 1780, created
Napoléon's
coronation crown and Josephine's tiaras, as well as exquisite gems for everyone from Russian countesses to American actresses. The array of glittering windows continues through Bulgari, Patek Philippe, Mikimoto, Dior, Repossi and Buccellati, with Damiani closing the circle at
la rue de Castiglione
.
Although all the shops empty their windows at closing time,
la Place Vendôme
remains one of Paris' loveliest spots at night, when facades are bathed in soft light and the central column glows with artful illumination. That's when we think of another famous inhabitant, the Comtesse de Castiglione. As a young beauty, the "divina contessa," mistress to Napoléon III, entertained all of fashionable Europe. In later years, no longer the toast of the town, she moved into an apartment at
numero 26
where she lived alone, so distressed at the ruin of her looks that she covered all the mirrors, shrouded the walls in black and emerged only after dark, heavily veiled.
La Place Vendôme à nuit. Bijouterie Cartier au-dessous.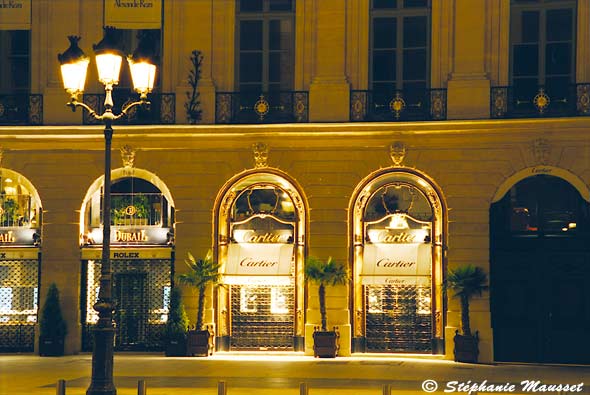 Perhaps it's just as well that the madwoman of
la Place Vendôme
, as she came to be known, can't see her former home today. Because
la Place Vendôme
, ageless and ever-fashionable, remains just as splendid today as it was when the Sun King had it built over three hundred years ago.
Having window-shopped
les bijouteries
and having absorbed a bit of the history of this pretty square, we now turn south on
rue de Castiglione
and continue on toward
rue de Rivoli
. Before reaching
rue de Rivoli
, we cross
rue du Mont Thabor
. On our right at
Numero 36
is
Le Soufflé
, which specializes in just that. We could step into the pretty
salon du thé
, Angelina at
226, rue de Rivoli
for a steaming and satisfying
tasse du chocolat à l'ancien
, or for the
anglophones
among us, we could stop into the British-owned W.H. Smith
librarie
at
Numero 248
before boarding
le Métro
at
Concorde
for our trip home.
More Reading:

The Place Vendome: Architecture and Social Mobility in Eighteenth-Century Paris

Families of Fortune: Life in the Gilded Age