Promenades de Paris - La Madeleine
L'église-de-la-Madeleine
Promenades de Paris - la série:
•
l'Île-de-la-Cité
•
le Louvre et les Jardins des Tuileries
•
Le Palais-Royal
•
La Place Vendôme
As has become our custom with these Promenades de Paris
, we will begin today's tour where we finished our last tour. Thus we will take
le Métro, ligne 1
to
Concorde
.
We will walk north on
rue Royalle
toward what is formally called
l'église-Sainte-Marie-Madeleine
, more commonly simply called
la Madeleine
. On our left at
numero trois
is the famous restaurant
Maxim's
.
The world-famous Maxim's.
.
Maxim's
is decorated in the Belle époque style. The restaurant was founded in 1893 by Maxime Gaillard. Since 1981, the restaurant and its multinational spinoffs have been owned by Pierre Cardin.
The belle époque bar at Maxim's.
Next door to the resaurant,
Maxim's
has a store featuring their house wines and an array of packaged foods. As we walk north, we will pass porcelain, crystal and jewelry shops. At the end of
rue Royale
is
place de la Madeleine
. Those of you who were not with us when we visited the church, may want to take a peak inside. It is well worth the visit.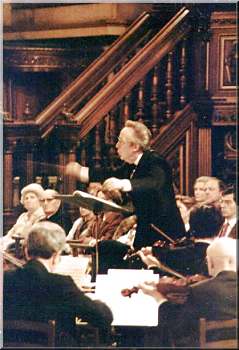 L'église-de-la-Madeleine is a popular venue for concerts of classical music
The rest of us are going across the street to the right to
numero 6, place de la Madeleine
to
Maille
, the famous mustard maker. In this shop we may also buy
cornichons, huile d'olive, vinaigre
and related items, all top-quality.
Moutards par Maille
In the northeast corner of the square is the luxury
épicerie, Fauchon
. Founded in the mid-
XIX ème siecle
,
Fauchon
always catered to the "carriage trade" until a few years ago, when they tried to become more mass-market. The attempt failed and
Fauchon
is now trying to take the tarnish off their image.
The displays of food in
Fauchon's
windows are truly works of art.
Fauchon, after a serious misstep by trying to become more mass-market is trying to regain its status as THE carriage-trade épecerie in Paris.
Now we will turn north onto
rue Vignon
, sprinkled with boutiques, many of them dedicated to food. At
numero 21
is
La Ferme Saint-Hubert
, a well-known
fromagerie
, cheese shop, with an adjacent restaurant featuring, naturally, cheese dishes. Across the street at
numero 24
is
La Maison du Miel
, which has been in business since 1898 selling over 30 kinds of honey, and, yes, tastings are allowed. Louis la Vache has brought friends in
Californie cadeaux
from this shop on occassion.
Now we will cross
rue Tronchet
onto
rue des Mathurins
and walk east to
Square Louis XVI
. Here we will find a small chapel, a rose garden and a little
cimetière
in the park. Now we'll turn south onto
rue d'Anjou
for a short distance, then we'll angle left onto
boulevard Malesherbes
back toward
la Madeleine
.
At
numeros 3 - 5 boulevard Malesherbes
is
Résonances
. The best way for Louis la Vache to describe
Résonances
to U.S. readers is that it is upscale and something of a combination of Restoration Hardware, Pottery Barn and Williams-Sonoma.
On the west side of
place de la Madeleine
is another
épecerie, Hédiard
, another carriage-trade store dating, like their competitor,
Fauchon
, from the
XIX ème siecle
. Near the front door are open bins of spices that draw us in the door with their aroma. Inside we find pastries, tea, chocolates, foie gras, wines, and (unlike Fauchon) fresh produce. Upstairs is a restaurant.
Various views of Hédiard, below.
At
numero 19
is
Maison de la Truffe
which serves lunch and dinner and at
numero 17
is
Caviar Kaspia
, should you wish to fuel yourself with vodka and caviar. Now we'll head through
galerie de la Madeleine
, turn onto
rue Boissy d'Anglas
, past the famous
Buddha Bar
and board
le Métro
at
Madeleine
and head home.
Louis la Vache hopes that you are enjoying these
promenades de Paris
as much as he enjoys having you come along for them. We'll do another one soon and we'll visit
les Halles
then,
d'accord?
.