On this day: Landscape Architect André Le Nôtre was born, le 12 Mars 1613
Landscape Architect André Le Nôtre
The greatest French garden and landscape designer, André Le Nôtre was born on le 12 mars 1613
. He followed his father as head gardener at
le Jardin des Tuilleries
in Paris and also studied fine art in Paris. André Le Nôtre's father, Jean Le Nôtre was the gardener of Louis XIII. André's grandfather also had been a gardener. Le Nôtre grew up in the Tuileries Gardens and in the nearby royal workshops of
le Louvre
. He was recognized as a genius in his time, particularly for his innovative use of perspective and reflective water surfaces.
The parks which Le Nôtre designed at
Vaux-le-Vicomte
and Versailles are the supreme examples of the French
XVII ème siecle
style of garden design. Le Nôtre also projected the central axis of the Tuileries, which became the grand axis of Paris running to
l'arc de Triomphe
and
La Défense
. The designer enjoyed a warm relationship with his patron Louis XIV. Both were men of taste with a passion for gardens and architecture. The baroque style of garden design, which they brought to a crescendo, became widely influential in Europe and beyond the wider world. Every prince and potentate dreamed of owning a garden which would 'outshine Versailles'. This ambition resulted in vast works, though few were executed with a fraction of Le Nôtre's excellent design judgement. Le Nôtre worked for Louis XIV from 1645 until Le Nôtre's death in 1700.
Vaux-le-Vicomte became the model for Versailles
Le Nôtre's other work included the design of Chantilly, Château Fontainebleau, Racconigi, Saint-Cloud, Saint-Germain-en-Laye and St. James's Park,
Londres
.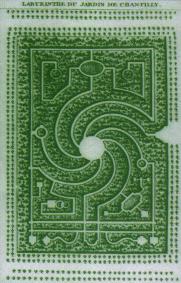 Le Nôtre's garden labyrinth at Chantilly
Although his father had worked for Louis XIII, it wasn't a given that the son would work for Louis XIV. Lenôtre's first important design, the park of Vaux-le-Vicomte, attracted the attention of Louis XIV, who then entrusted to him the direction of nearly all the royal parks and gardens. Le Nôtre collaborated with Louis Le Vau and Charles Le Brun on Vaux-le-Vicomte. Louis XIV would also call upon the services of Le Vau and Le Brun at Versailles because of their work with Le Nôtre at Vaux-le-Vicomte. Today at Vaux-le-Vicomte, there is a very interesting multi-media display that explains the genius of Le Nôtre's design there.
A view of a small portion of Château Fontainebleau. This vast château has more than 1,000 rooms.
Le Nôtre brought to full development that type of spacious formal garden, characterized by extensive unbroken vistas, that so accurately expressed the grandeur of his period. The gardens of the palace of Versailles are his most celebrated work. At Versailles, he transformed the grounds, which were a muddy swamp surrounding this former hunting lodge, into the crown jewel of his
oeuvre
. In 1664 he transformed the palace gardens of the Tuileries. His principles in garden design dominated throughout Europe until the rise of the English school of informal and naturalistic gardens.
At Vaux-le-Vicomte, standing behind Hercules and looking past Le Nôtre's gardens toward le château.
Le Nôtre's services were sought by the rich and powerful, and he moved at ease among them. On a trip to Rome, overwhelmed by Pope Innocent XI's interest in his work, he took him in his arms and kissed him, to the later disbelief of the court back at Versailles. Le Nôtre was deeply creative man, whose
savoir-faire
and good nature gained him the King's friendship and allowed him to give free reign to his artistic talent. "You are a happy man, Le Nôtre," Louis XIV told him. Certainly Le Nôtre has made hundreds of thousands happy over the centuries with his beautiful gardens.
Le Nôtre turned Versailles from a muddy swamp into a jewel of a garden.
More Reading:

Andre Le Notre

Baroque Landscape: Andre Le Notre & Vaux le Vicomte