On this day: la Légion Étrangère a été fondée, le 10 Mars 1831
La Légion Étrangère
The French Foreign Legion, la Légion Étrangère was founded on this day, le 10 mars 1831
by Louis-Philipppe
to support his war in
l'Algerie
. La Légion Étrangère is a unique and distinguished unit within the French Army. It is an elite rapid deployment force made up of foreign volunteers serving France. (No, Dear Readers, Louis la Vache has NOT joined
la Légion Étrangère
no matter what rumors frequent commenter "DoctorDentons" a.k.a. "The Snark Shark," may try to start. No doubt "DoctorDentons" will say, "I know that rumor is true because I started it myself.")
Le Kepi Blanc, the archetypal chapeau de la Légion Étrangère. Charles de Gaulle liked it. It must be good for you, too, Yank!
La Légion Étrangère
, originally consisted of foreign volunteers in the pay of France but now includes large numbers of
Français
. Its officers are nearly all from
l'armée Française
. A foreign-born legionnaire becomes eligible for French citizenship after serving one enlistment (five years) with good conduct. Upon enlistment the recruit takes an oath to serve not France but
la Légion
, and the organization's unofficial motto, "Legio patria nostra" ("The legion is our fatherland"), further tells the legionnaire where his first loyalty lies. Often romanticized by novelists (such as by Percival Christopher Wren in "Beau Geste" [1925]), who pictured the legion as a haven for criminals, forlorn lovers, and unhappy noblemen serving under assumed names, the organization is actually a highly disciplined professional army that has been in almost continuous combat since its founding by law on
le 10 mars 1831
. Because
la Légion
keeps secret a volunteer's past, it has had more than its share of the aforementioned types, but the man who wears the traditional
kepi blanc
headdress is more likely to be a European professional soldier who prefers fighting with
la Légion
to garrison duty with his own army. Every major European war since the 1830s has swelled the legion's ranks with volunteers from unmustered forces. (After the Falklands War of 1982, British recruits rose to 10 percent of the total.)
Founded by King Louis-Philippe as an aid to controlling French colonial possessions in Africa, especially Algeria,
la Légion
established its headquarters at Sidi bel Abbès in
l'Algerie
. During its history its forces have fought or been stationed in such places as Spain, the Crimea, Italy, Mexico (where it supported the ill-fated emperor Maximilian), Dahomey (now Benin), Morocco, Syria, and Indochina. Although formerly prohibited from being stationed in metropolitan France during peacetime, it did serve there in World Wars I and II. After the French collapse in World War II, units of
la Légion
escaped to join
General Charles de Gaulle's
Free French forces. In 1961 one regiment of
la Légion
supported insurgents in
l'Algerie
against
De Gaulle's government
and, despite its outstanding combat record, was disbanded in disgrace. In 1962, with the coming of Algerian independence,
la Légion
for the first time moved its headquarters to metropolitan France, to the town of Aubagne, near Marseille.
La Légion
publishes a monthly magazine,
Kepi Blanc
("White Kepi").
In the early days of
la Légion
, the Legionnaire was very poorly trained and given only the most basic of equipment, clothing and food. He tended to be badly motivated - as his reasons for joining often were desperation and self preservation rather than patriotism (he would most likely be running away from some grave problem in his life). Living and working conditions were terrible, and their early campaigns were typically bloody affairs. As a result, desertion was a major problem for
la Légion
.
The task of forging a rag-tag band of poorly-motivated would-be warriors - from many different cultures - into an effective fighting force proved to be an immensely difficult undertaking. To accomplish this,
la Légion
quickly developed an incredibly austere code of discipline, far in excess of that of other contemporary units (even within their own French army).
It was in Mexico on
le 30 avril 1863
that
la Légion
earned its legendary status. The small infantry patrol led by Capitaine Danjou numbering 62 soldiers and 3 officers was attacked and besieged by over two thousand Mexican infantry and cavalry units organized into 3 battalions, and was forced to make a defense in Hacienda Camarón. Despite the hopelessness of the situation they fought nearly to the last man. Danjou was mortally wounded in the defense of the hacienda, and the last of his men mounted a desperate bayonet attack. When the last three survivors were asked to surrender, they insisted that the Mexican soldiers allow them safe passage back home, to keep their flag, and to escort the body of the fallen Danjou. Upon seeing this, the Mexican commander commented, "these are not men, they are devils," and out of respect agreed to these terms. Today
le jour de Cameróne
,"Cameróne Day," is an important day of celebration for the Legionnaires, and the wooden prosthetic hand of Capitane Danjou is brought out for display.
Legionnaires in dress uniform carrying the FAMAS assault rifle
During the Franco-Prussian War,
la Légion
attempted to lift the Siege of Paris by breaking through the German lines. They succeeded in taking Orléans, but failed to break the siege.
In World War I
la Légion
fought in many critical battles of the war, including the
Battle of Verdun
.
la Légion
was heavily decorated for its efforts in the war.
La Légion Étrangère
was heavily involved in World War II, playing a large role in the Middle East and the North African campaign. The 13th Demi-Brigade was deployed in the Battle of Bir Hakeim. (One of the bridges over
la Seine
in Paris is now named after this battle.) Interestingly, part of
la Légion
was loyal to the Free French movement, yet another part was loyal to the Vichy government. A battle in Syria saw two opposing sides fight against each other in a short engagement, and later on the Vichy Legion joined its Free French brethren.
While most of its commissioned officers are French, approximately 10% of the officers are former legionnaires who have risen through the ranks. The rest of
la Légion
is made up of men from a wide variety of nationalities, with French citizens representing 25-35% of the legionnaires. The foreign volunteers are primarily European. Before and during World War II, many Jews from Eastern Europe fled to France and ended up enlisting in
la Légion
. Ironically, after the fall of the Third Reich, Germans (long a major presence in the legion) accounted for roughly thirty percent of the manpower, with many former German troops coming directly from WWII POW camps.
During the mid 1980s
la Légion
contained large contingents of British and Serbian nationals. Currently many recruits are from African countries.
Statue honoring La Légion Étrangère in le Corse, Corsica
Interestingly, the ranks of
la Légion
historically tend to be filled with enlistees from countries undergoing some sort of crisis. In recent generations, however, many of those joining have come from middle-class backgrounds in stable prosperous countries such as Britain and the US (and indeed France itself).
Legionnaires can choose to enlist under a pseudonym ("declared identity") and a declared citizenship. This disposition exists in order to allow people who want to turn over a new leaf in their life to enlist. French citizens can enlist under a declared, fictitious, foreign citizenship (generally, a francophone one). After one year, legionnaires can regularize their situation under their true identity.
In the past,
la Légion
had a reputation for attracting criminals on the run and would-be mercenaries. In recent years, however, admission has been restricted much more severely and background checks are done on all applicants. Generally speaking, convicted felons are prohibited from joining the service. (That leaves you out, DoctorDentons!)
A legionnaire harmed in combat for France is allowed to apply for French citizenship under a provision known as
Français par le sang versé
("French by spilled blood").
For 175 years,
la Légion Étrangère
has served France and has become part of
la légende populaire et romantique de la France
and
la Légion
has become the finest trained army of mercenaries the world has ever seen.
Legionnaires on river patrol.

"One Dies Once In A Lifetime.
I'm Not Interested In Dying
Or Seeing My Men Die.
To Win A War And Stay Alive
Is Something Not Available To All.
It Takes Five Years To Form A Soldier
And Only A Few Seconds For Him To Die.
It Only Takes One Bullet.
The Legion Never Weeps For It's Dead,
Rather It Avenges Them."
Company Adjuant
3rd Co., 2nd REP, la Légion Étrangère
More Reading: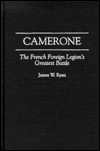 Camerone: The French Foreign Legion's Greatest Battle

Life in the French Foreign Legion: How to Join and What to Expect when You Get There

The History of the French Foreign Legion: From 1831 to Present Day