On this day: compositeur Claude Debussy died, le 25 Mars 1918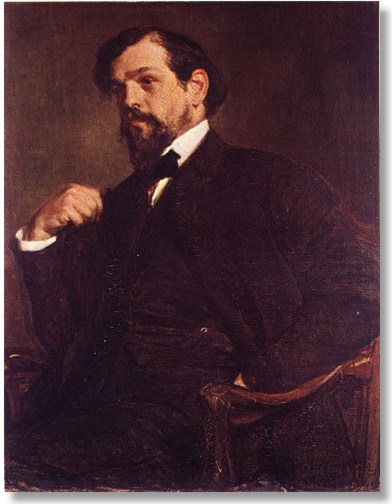 Claude Debussy
French compositeur Achille-Claude Debussy
was a contemporary of the painters of the
impressionniste
movement such as
Monet
,
Manet
,
Morisot
,
Cézanne
and
Renoir
. He developed the style commonly referred to as
musique impressionniste
, a term which he depised. Debussy was not only one of the most important French composers but was also one of the most important figures in music at the turn of the
XX ème siecle
. His music represents the transition from late-romantic music to
XX ème siecle
modernist music.
Debussy was born on
le 22 août 1862
. He began taking music instruction when he was nine years old. His talents soon became evident and at age ten Debussy entered
le Conservatoire de Paris
. Debussy studied there with Ernest Guiraud,
César Franck
and others. As the winner of the Prix de Rome, he received a scholarship by the Académie des Beaux-Arts, which included a four-year residence at the Villa Medici, the French Academy in Rome to further his studies (1885-7). According to letters from this period, Debussy often was depressed and unable to compose, but he also met Franz Liszt, and finally composed four pieces, which were sent to the Academy. One of these four pieces was the cantata
La damoiselle élue
, which was criticized by the Academy as "bizarre" and in which some stylistic features of Debussy's later style emerged for the first time.
With his visits to Bayreuth in 1888 and 1889 Debussy was exposed to Wagnerian opéra, which was to have a lasting impact on his work. Later, in Paris, during
l'Exposition Universelle
(1889) Debussy heard Javanese music. Wagner's influence is evident in
La damoiselle élue
and
les Cinq poèmes de Baudelaire
(1889) but other songs of the period, notably the settings of
Verlaine (Ariettes oubliées, Trois mélodies, Fêtes galantes, set 1)
are in a more capricious style.
Beginning in the 1890s, Debussy developed his own musical language largely independent of Wagner's style and heavy emotionalism. In reaction to the enormous works of Wagner and other late-romantic composers, Debussy chose to write in smaller, more accessible forms. Debussy's "String Quartet in G minor" (1893) paved the way for his later, more daring harmonic exploration. In this work he utilized the Phrygian mode as well as less standard modes, such as the whole-tone scale, which creates a sense of floating, ethereal harmony.
Influenced by the contemporary symbolist poet Stéphane Mallarmé Debussy wrote one of his most famous works, the revolutionary
Prélude à l'après-midi d'un faune
. In contrast to the large late-romantic orchestra, Debussy wrote this piece for a smaller ensemble, emphasizing orchestral colours and timbres of the instruments. Even if Mallarmé himself and Debussy's colleague and friend Paul Dukas were impressed by this piece, the work caused controversy at its premiere; the composer
Camille Saint-Saëns
for example thought it "pretty" but lacking any "style". Nonetheless, this piece launched Debussy into the spotlight as one of the leading composers of the era.
In reaction to Wagner and his overblown late-romantic opéras, Debussy wrote the mellow, symbolist opéra
Pelléas et Mélisande
, which would be his only finished opéra. Based on the play by Maurice Maeterlinck, the opéra proved to be immensely influential to younger French composers, including
Maurice Ravel
. Pelléas, with its rule of understatement and deceptively simple declamation, also brought an entirely new tone to opéra. These works brought a fluidity of rhythm and colour quite new to Western music.
Among Debussy's major orchestral works are the three
Nocturnes
(1899), characteristic studies in veiled harmony and texture (
Nuages
), exuberant (
Fêtes
'), and whole-tone (
Sirènes
).
La Mer
(1903-1905) essays a more symphonic form, with a finale that works themes from the first movement, although the middle movement (
Jeux de vagues
) proceeds much less directly and with more variety of colour.
The three
Images
(1905-1911) are more loosely linked, and the largest,
Ibéria
is itself a triptych, a medley of Spanish allusions and fleeting impressions.
During this period Debussy wrote much piano music. The
Suite bergamasque
(1890) recalls, in Verlainian fashion, rococo decorousness with a modern cynicism and puzzlement. This suite contains Debussy's most popular piece
Clair de Lune
, "moonlight." The set of pieces entitled
Pour le piano
, (1901) utilises rich harmonies and textures which would prove influential to Jazz music. His first volume of
Images pour piano
(1904–1905), combine harmonic innovation with poetic suggestion.
Reflets dans l'eau
is a musical description of rippling water.
Hommage à Rameau
, the second piece, is a slow, mysterious court dance, but only remotely in the manner of Jean-Philippe Rameau. In his evocative
Estampes
for piano (1903), Debussy gives impressions of exotic locations, such as an Asian landscape in the pentatonic
Pagodes
, and of Spain in
La soirée dans Grenade
. Debussy wrote his famous "Children's Corner Suite" (1909) for his beloved daughter whom he nicknamed
Chou-chou
. These beautiful and poetic pieces recall classicism as well as a new wave of rag-time music. Debussy also pokes fun at Richard Wagner in the popular piece "Golliwogg's Cake-walk."
Debussy and his daughter whom he nicknamed "Chou-chou."
The first set of
Preludes
, twelve in total, proved to be his most successful set of pieces for piano, frequently compared to
Chopin's
famous set of preludes. These masterpieces of subtlety and description are filled with rich, unusual and daring harmonies. These pieces include the popular
La Fille aux Cheveux de Lin
and
La Cathédrale Engloutie
.
During this period and up until his death, Debussy worked on other opéra projects and left substantial sketches for two pieces after tales by Edgar Allan Poe (
Le diable dans le beffroi
and
La chute de la maison Usher
), but neither was completed.
The harmonies and chord progressions frequently exploit dissonances without any formal resolution. Unlike in his earlier work, Debussy no longer hides discords in lush harmonies. The forms are far more irregular and fragmented. The whole tone scale dominates much of his late music.
The music for Gabriele d'Annunzio's mystery play
Le martyre de St. Sébastien
(1911) a lush and dramatic work and written in only two months, is remarkable in sustaining a late antique modal atmosphere that otherwise was touched only in relatively short piano pieces.
The last orchestral work by Debussy, the
ballet Jeux
(1912) written for Serge Diaghilev's
Ballets Russes
, contains some of his strangest harmonies and textures in a form that moves freely over its own field of motivic connection. At first
Jeux
was overshadowed by Igor Stravinsky's "The Rite of Spring," composed in the same year as
Jeux
and premiered only two weeks later by the same ballet company. Decades later, composers such as Pierre Boulez and Jean Barraqué pointed out parallels to Anton Webern's serialism in this work. Other late stage works, including the ballets
Khamma
(1912) and
La boîte à joujoux
(1913) were left with the orchestration incomplete, and were later completed by Charles Koechlin and André Caplet, who also helped Debussy with the orchestration of
Gigues
(from
Images pour orchestre
) and
Le martyre de St. Sébastien
.
Debussy with Igor Stravinsky
The second set of
Preludes pour piano
(1913) features Debussy at his most avant-garde, sometimes utilising dissonant harmonies to evoke moods and images, especially in the mysterious
Canope
; the title refers to a burial urn which stood on Debussy working desk and evokes a distant past. The pianist Claudio Arrau considered the piece as one of Debussy's greatest preludes: "It's miraculous that he created, in so few notes, this kind of depth."
His two last volumes of works for the piano,
les Études
(1915) interprets similar varieties of style and texture purely as pianistic exercises and includes pieces that develop irregular form to an extreme as well as others influenced by the young Igor Stravinsky (a presence too in the suite
En blanc et noir
for two pianos, 1915). The rarefaction of these works is a feature of the last set of songs,
les Trois poèmes de Mallarmé
(1913), and of the "Sonata for flute, viola and harp" (1915), though the sonata and its companions also recapture the inquisitive Verlainian classicism.
With the sonatas of 1915-1917, there is a sudden shift in the style. These works recall Debussy's earlier music, in part, but also look forward, with leaner, simpler structures. Despite the thinner textures of the "Violin Sonata" (1917) there remains an undeniable richness in the chords themselves. This shift parallels the movement commonly known as neo-classicism which was to become popular after Debussy's death. Debussy planned a set of six sonatas, but this plan was cut short by his death in 1918.
Claude Debussy died in Paris on
les 25 mars 1918
from rectal cancer, during the bombardment of Paris by airships and long-distance guns during the last German offensive of World War I. This was a time when the military situation of France was considered desperate by many, and these circumstances did not permit his being paid the honour of a public funeral, or ceremonious graveside orations. The funeral procession made its way through deserted streets as shells from the German guns ripped into his beloved city. He was interred there in
le Cimetière de Passy
, and French culture has ever since celebrated Debussy as one of its most distinguished representatives.
Debussy at le Cimetière de Passy.
This post was sourced from Claude Debussy.org and other sources.
More Reading

Debussy Remembered

Debussy (The Illustrated Lives of the Great Composers Series)


Listening to Debussy:


Debussy: La Mer, etc.
Debussy, Ravel: String Quartets
Debussy: Orchestral Music