On this day: Composer-Pianist Frédéric Chopin was born, le 1 Mars 1810
Frédéric Chopin
Polish-French composer and pianist Frédéric Chopin
, was one of the masters of piano composition. He wrote chamber music (music for small groups of instruments), songs, and pieces for piano and orchestra. But his fame rests almost entirely on his more than 200 compositions for solo piano.
Chopin was born in Zelazowa-Wola, near Warsaw, on
le 1 mars 1810
according to the statements of the artist himself and his family, but according to his baptismal certificate, which was written several weeks after his birth, the date was
le 22 février
.
A child prodigy, Chopin played the piano in public when he was only 8 years old. He began to compose soon afterward. Chopin studied at the Warsaw Conservatory from 1826 to 1829 before leaving Poland in 1830. He settled in Paris in 1831, and, except for some travel, lived there the rest of his life.
Chopin reversed the direction taken by his father. His father was French, born in 1771 in Marainville in the province of Lorraine, but already as a child he had established contacts with the Polish families of Count Michal Pac and the manager of his estate, Jan Adam Weydlich. At the age of 16, Mikolaj accompanied them to Poland where he settled down permanently. He never returned to France and did not retain contacts with his French family but brought up his children as Poles. His Polish son Frédéric never returned to Poland and died in France.
Aurore Dudevant, "George Sand"
In 1837, Chopin began a famous love affair with Aurore Dudevant, the novelist whose pen name was George Sand. The affair ended with a quarrel in 1847. Never in robust health, Chopin became became seriously ill with tuberculosis after his affair with George Sand ended. He visited Britain in 1848 then returned to Paris where he died on
le 17 october 1849
.
A Chopin Nocturne
Chopin was a master of small musical forms. His works for solo piano include three sonatas, four ballades, four large-scale scherzos, about 40 mazurkas in a Polish 3/4 dance rhythm, and about 15 polonaises in a stately Polish dance rhythm. His other solo pieces include more than 25 etudes, 18 waltzes, a barcarole, a berceuse, a bolero, a fantasia, a tarantella, and several rondos. The fantasia is perhaps his greatest single work. His etudes are valuable for their music and for use in teaching piano.
With only two public concerts in as many years, Chopin became a star of Parisian society and a legendary performer at its salons, revered by his great contemporaries Schumann, Liszt, and the painter Eugene Delacroix. His famously fiery concert playing style belied his fragile health.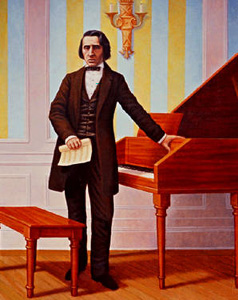 Chopin's fiery concert playing style belied his fragile health.
Chopin is unique among composers because his music has always been as highly esteemed by musicians as by the public. He was a creator of melody, and some of his pieces now seem as familiar as folk music. Chopin did much to influence piano composition. He had a keen appreciation for the capability of the piano to produce beautiful music. He designed his compositions to display the resources of the instrument to full effect. His best works were written in patterns that he worked out or perfected himself. Chopin also influenced the whole future of music by including Slavic folk harmonies and rhythms in his work. Thus while he adopted France as his home, he never really left Poland musically.
Chopin's music expresses Polish patriotism in the Polish harmonies and rhythms of his mazurkas and polonaises. He ranks as one of music's greatest tone poets because of his superfine imagination and fastidious craftsmanship.
Chopin greatly admired
Mozart
and requested that the Mozart
Requiem
be played at his funeral which was held at
l'église-de-la-Madeleine
. His funeral was attended by more than 3,000 people.
UPDATE
Reader "Monkey's Max" added a comment about an important detail:
"In accordance with Chopin's wishes, his heart was removed from his body and returned to Poland. It was placed in an urn in the Holy Cross Church in Krakowskie Przedmiescie street in Warsaw."
Louis la Vache sincerely thanks "Monkey's Max" for this. When researching the material for this post, Louis KNEW there was a missing detail, but couldn't remember what it was - this is it! None of the three sources Louis used mentioned it, but he had a nagging feeling that something was missing. A swooping bow and hat tip to "Monkey's Max" for supplying this!
Reading about Chopin:

Chopin's Funeral

Listening to Chopin:

The Very Best of Chopin

0730099210720:Product Link on Barnes & Noble.com.
Rachmaninoff: Rhapsody on a Theme of Paganini, Corelli & Chopin Variations


Chopin for Relaxation

0090266342327:Product Link on Barnes & Noble.com.