On this day: Aéroport Charles de Gaulle opened, le 8 Mars 1974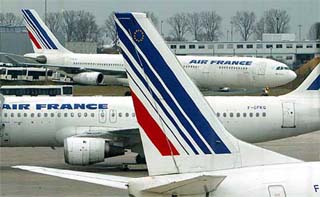 Air France planes at l'aéroport Charles de Gaulle
Paris's Aéroport de Roissy-Charles de Gaulle, also known simply as Roissy, is France's main international airport and is one of Europe's busiest.
It is named after
Charles de Gaulle
(1890-1970). It is located near the small town of Roissy-en-France, 25 kilometres north-east of Paris. The decision to build
l'aéroport Charles de Gaulle
was made on
le 13 janvier 1964
. It took ten years to complete. In 1968 construction began on the first hangar, and a 57 metre water tower was erected in just twelve days in 1970. In 1973, the airport's original name,
aérport Roissy
, was dropped and that of Charles de Gaulle adopted. A month before the death of
President Georges Pompidou
, on
le 8 mars 1974
, the airport was inaugurated by the then-Prime Minister Pierre Mesmer.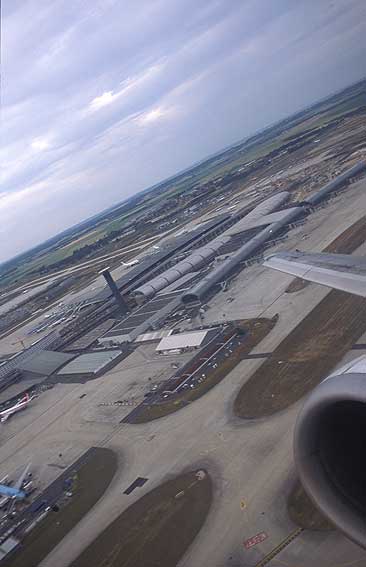 This aerial photo shows only a fraction of this huge aéroport
In 2004,
l'aéroport Charles de Gaulle
ranked second in Europe in terms of passenger traffic with 51,260,363 passengers, behind London Heathrow Airport (67,344,054), and just above Frankfurt International Airport (51,098,271). In terms of plane movements,
l'aéroport Charles de Gaulle
was number one in Europe with 525,660 planes, above Frankfurt International Airport (477,475) and Heathrow (475,999). In terms of cargo traffic,
l'aéroport Charles de Gaulle
(CDG) was also number one in Europe in 2004 with 1,876,900 metric tonnes (2,068,928 US tons), above Frankfurt (1,838,894 metric tonnes) and Heathrow (1,412,033 metric tonnes).
CDG is connected to the RER urban rail network (like BART in the San Francisco Bay Area) providing service to downtown Paris three or four times per hour. The RER has a stop in Terminal Two of
l'aéroport
and one some distance adjacent to Terminal One. The French railway SNCF line's high-speed rail
TGV
network operates rail service to several French stations from CDG, including Angers, Avignon, Bordeaux, Le Mans, Lille, Lyon, Marseille, Montpellier, Nantes, Nîmes, Poitiers, Rennes, Toulouse, Tours, and Valence. TGVs from
l'aéroport Charles de Gaulle
also serve
Bruxelles en Belgique
. Rail fares are subsidized and are thus artificially low. The SNCF is nationalized, thus the French government competes with the airlines, and carries this competition right into
l'aéroport
!
TGV rail service out of l'aéroport Charles de Gaulle.
L' aéroport Charles de Gaulle
has three terminals. Terminal One was built to an avant-garde design consisting of a ten-floor high circular building surrounded by seven satellite buildings each with four gates. The main architect was Paul Andreu, who was also in charge of the extensions during the following decades. Terminal Two was built for Air France, but now hosts other airlines as well. The third terminal hosts charter and low cost airlines, such as easyJet.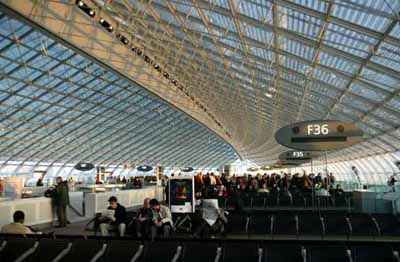 Hall F, Terminal Two
Terminal Two is not really a terminal, but a name applied to six distinct "halls", lettered from Hall A to Hall F. In other airports, such as JFK or LAX, these "halls" would simply be called terminals, so that CDG can be more properly described as having eight terminals altogether. When landing at or taking off from CDG, one should always know precisely which of the eight terminals/halls the plane lands or takes off from, as these can be located quite far apart from each other. To help passengers avoid going to the wrong terminal, the terminal that passenger is using is printed on their plane tickets. The RER trains going into CDG also have a list posted by the doors of the train cars listing the terminals and the airlines serving those terminals.
Terminal Two - E, with a daring design and wide open spaces, was one of CDG's newest additions. On
le 23 mai 2004
, not long after its inauguration, a portion of Terminal Two - E's ceiling collapsed early in the day, near Gate E50, killing four people. Terminal Two - E had been inaugurated in 2003 after some delays in construction and was also designed by Paul Andreu. Administrative and judicial enquiries were started. Coincidentally, Andreu had also designed Terminal 3 at Dubai International Airport, which collapsed while under construction on
le 28 septembre 28 2004
. In
février 2005
, the results from the administrative enquiry were published. The investigators pointed out that the there existed no single fault, but rather a multiplicity of causes to the collapse, in a design that had little margin for error. According to them, the concrete vaulted roof was not resilient enough and had been pierced by metallic pillars and some of these openings weakened the structure. Sources close to the enquiry also disclosed that the whole building chain had worked as close to the limits as possible, so as to reduce costs. Paul Andreu denounced the building companies for having not correctly prepared the reinforced concrete. On
le 17 mars 2005
,
Aéroports de Paris
, the governing body over both CDG and
aéroport Orly
, (Paris's other
aéroport
) decided to tear down and rebuild the whole part of Terminal Two - E at a cost of approximately €100 million.
Paul Andreu has designed more than fifty
aéroports
in Europe, Asia and Africa. He also designed
la Grande Arche de la Defense
on the north-west side of Paris that mirrors
l'arc-de-Triomphe
. After the collapse of two terminals, Louis la Vache wonders in Andreu will get any further airport commissions!
An Air France Concorde crashes after takeoff, a result of hitting a part dropped on the runway from a Continental Airlines plane.
On
le 25 juillet 2000
, Air France Flight 4590, a Concorde bound from CDG for JFK crashed in nearby Gonesse after hitting a part on the runway that had fallen from a Continental Airlines plane. The Concorde was on a German charter flight for a tour company. Everyone on board died, as did four people on the ground. A memorial service for the victims was held in Paris's
église de la Madeleine
. Flown only by British Air and Air France, hampered by restrictions in many countries that prohibitied it from being flown at supersonic speeds, narrow, uncomfortable and unable to attract enough passengers to be profitable, the Concorde was retired in 2003 after its last flight on
le 18 mai 2003
.
Vol Air France - Concorde F-BVFB le 18 mai 2003 - 10h45 Aéroport Roissy Charles de Gaulle - le dernier vol de la Concorde
On
le 22 décembre 2001
, an Al-Qaeda terrorist named Richard Reid tried to ignite explosives hidden in his shoes onboard American Airlines Flight 63, which was headed from Charles de Gaulle to Miami International Airport in Miami, Florida. He was subdued after a passenger smelled sulfur.
As Louis la Vache made one or two trips a year to
la belle France
before moving to France last
septembre
, he can attest to how busy this
aéroport
is!
More Reading:

Paul Andreu, Architect


Paris Airports: Aeroports de Paris