Les sites de Paris: le Palais-Royal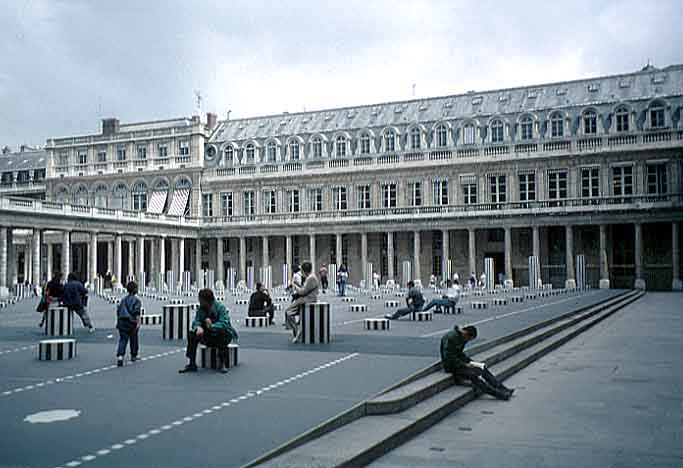 Le Palais-Royal
"The moving men have gone. The stepladder has been folded away. And my friends, climbing one by one up the old staircase ... look out over the gardens of le Palais-Royal and say to me: 'Ah! So you've found another country home.'"
So wrote Colette from her new apartment overlooking the lawns, flowerbeds and arcades of her secret garden,
le Palais-Royal
. Standing in that same garden today, one can look up at her windows and can easily imagine her pale face, with its broad cheekbones, heavily made-up eyes and cloud of frizzy hair, looking down.
Colette
"Paris is not very familiar with Paris," Colette noted when she moved here in the 1920s. "So the gardens are known and frequented only by residents and immediate neighbors." It's not much different today. Crowds surge past on
la Rue St-Honoré
without suspecting that behind
la Comédie Française
and the imposing
Conseil d'État
lies a tranquil garden where the loudest sounds are the splash of a fountain, the chirping of sparrows and the happy cries of children playing in a sandbox. Its seclusion is ensured by the narrowness of its entrances; although there are many, not one gives a hint of what's inside, and this secrecy is part of its charm.
Le Conseil d'État
Physically,
le Palais-Royal
has hardly changed at all since the 1780s, when its arcades were new and it was the city's fashionable heart. By the end of that decade it had become the birthplace of the Revolution. However, as the name implies, it was royal before it was Revolutionary, and its story starts with another famous French R:
Richelieu
.
Appointed prime minister to Louis XIII in 1624, the worldly cardinal began buying up land and houses near the king's residence at
le Louvre
. In 1629 he chose the architect Lemercier to build him a sumptuous palace on the site of today's
Conseil d'Etat
on
la Rue St-Honoré
. Called
le Palais-Cardinal
, it was a showplace for his art collection and library, with a grand theater in the Italian style. Its gardens were the most extensive and beautiful in Paris, with flowerbeds, statues and fountains arranged between double rows of chestnut trees.
Les jardins du Palais-Royal were once the most extensive in Paris.
Although the centuries have destroyed nearly everything of Richelieu's palace, an interesting vestige remains. Enter
le Palais-Royal
between
le Café Le Nemours et la Comédie Française
on the south end, and you'll be in a large courtyard adorned by black and white columns. Cross to the wall on the right, and you'll see Richelieu's
Galerie des Proues
, named for the sculpted ships' prows jutting from the wall. With their fierce faces and ramming devices, these warship prows are a reminder that the cardinal was also
le Ministre de la Marine
, Minister of the Navy.
Richelieu died in 1642, leaving his palace to the king. When Louis XIII died a year later, his widow, Anne, left the uncomfortable Louvre and moved with her two sons into Richelieu's magnificent residence, changing its name to
le Palais-Royal
. Louis XIV was five years old, his brother Philippe was three, and the gardens became their playground. The property was larger then, bounded by
la Rue de Richelieu, Rue des Petits-Champs et Rue des Bons-Enfants
, and the north end was wooded. The boys were left largely to their own devices—the future Sun King almost drowned one day in a fountain. He and his brother learned to ride here, were trained in sports and sharpened their military skills in their own miniature fort.
Voisins, neighbors, le Palais-Royal et le Louvre
This idyll came to an end with the 1650 uprising called
la Fronde
. On two occasions, Anne, her sons and Cardinal Mazarin, warned about plots against the young king, fled at night to St-Germain-en-Laye. When the uprising finally ended in 1652 the royal family returned to Paris, but this time to
le Louvre
, which was easier to defend. Louis' lifelong distrust of Paris dates from this period; once he built Versailles he spent little time in the capital. For a while the palace housed royal relatives, and
Molière
entertained in Richelieu's theater until he collapsed, ironically, onstage during a performance of
Le Malade Imaginaire
, "The Imagined Malady," and died shortly afterward. In 1692 the king gave
le Palais-Royal
to his brother, now
le duc d'Orléans
, and his heirs.
Passing through the hands of successive
ducs
, the refurbished palace became the scene of fabulous fêtes and famous suppers for intimates and mistresses. We owe the look of today's
Palais-Royal
to the lavish lifestyle of its last owner before the Revolution, Louis-Philippe-Joseph, father of king
Louis-Philippe
. A gambler and big spender, he was so heavily in debt by 1780 that he hatched a building scheme that turned the property into an income-generating asset.
On three sides of the garden, he built rental pavilions. The ground floor was divided into sixty units, each with three arcades. Above these were
appartements
, some used by ground-floor businesses, others as dwellings. The project reduced the garden area by one-third; it also created three new streets:
les rues de Montpensier, Beaujolais et Valois
. The galleries were given the same names, and each of the 180 arcades was numbered. Those numbers are still used today. On the fourth side was a wooden gallery.
Luxury businesses eager to cash in on the city's new center of attraction quickly signed leases, and soon all of Paris flocked here to stroll, shop, see and be seen. Shops, cafés and the city's finest restaurants weren't the only businesses to move in; so did hairdressers, theaters, a riding school and a wax museum. In good weather café tables spilled out of the arcades into the garden.
When Thomas Jefferson arrived in Paris in 1784, he went straight to
le Palais-Royal
. In a letter to a Virginia friend he described it as "a particular building lately erected here, which has greatly enriched the owner of the ground, has added one of the principal ornaments to the city and increased the convenience of its inhabitants." An inveterate shopper, Jefferson bought books, a clock and a set of ivory-handled knives here. He also dined in its restaurants, attended theater performances, played chess at
le Café de Foy
and had his portrait drawn by an ingenious mechanical device for tracing profiles.
Vestiges of these early businesses still linger under the arcades today. A sign at
153 Galerie de Valois
("Galerie" refers to the arcades) reads, "Guillaumot, engraver, in the Palais-Royal since 1761." At
1 Galerie Montpensier
, faded signs advertise a coiffeur and
posticheur
, or wigmaker. And
161 Galerie de Valois
still wears the sign of a
dentellière
or lacemaker. In some spots, colorful mosaic floors carry the names of previous tenants. The modern
Café Corazza
at
11 Galerie de Montpensier
occupies the same location as the original Corazza, where literati once gathered for gossip and glaces. But the grandest relic of all is still alive and thriving:
Le Grand Véfour
, perhaps Paris' most beautiful three-star restaurant, began as the humble
Café de Chartres
in 1784, and then was transformed into an elegant restaurant popular with clients like Napoléon and Josephine. Today its tables carry plaques naming famous diners like
Vict

or Hugo
and Émile Zola, and waiters are pleased to point out Colette's favorite table in the corner.
By the time Jefferson sat for his portrait in 1789,
le Palais-Royal
was a vortex of Revolutionary activity. It was uniquely suited for this role, since police were forbidden to enter the Orléans domain. In addition, the well-known antipathy of
le duc
for
Marie-Antoinette
and her circle, coupled with his popularity with the Parisian mob, turned it into an "anti-Versailles." Activists gathered in the garden and Revolutionary fervor culminated on
le 12 juillet 1789
, when a provincial lawyer named Camille Desmoulins made an incendiary speech outside
le Café de Foy
. Tearing a leaf from a chestnut tree, he turned it into a cockade, "green, for hope," and called the citizenry to arms. Six thousand impassioned listeners responded. They decked themselves with leaves and, after plundering arms storehouses and gunsmiths' shops, stormed the Bastille two days later. For the next few years the garden was the scene of murders, burnings in effigy and grisly torchlight processions with severed heads brandished on spikes.
The Reign of Terror was in full swing when a young woman from
Normandie
, bent on avenging the recently eliminated Girondins, entered Badin's cutlery shop at
177 Galerie de Valois
. Selecting a sturdy kitchen knife, she paid for it and, later that evening, plunged it into the chest of Jean-Paul Marat as he lay in his bath. Immediately arrested, Charlotte Corday was guillotined four days later.
The Death of Marat by David.
The guillotine also awaited
le duc d'Orléans
, although by 1793 he was calling himself Philippe-Egalité. After he lost his head, the government seized the property, but the shops and businesses remained, and in the frivolous post-Revolutionary years of the "merveilleuses" and their dandies, their popularity increased. Along with restaurants, cafés, jewelers and wigmakers were more and more billiard rooms, gambling salons and (ahem) licentious young "ladies" who became an international attraction.
Napoléon, who enjoyed his first sexual encounter in
la Galerie de Montpensier
, later used
le palais
as offices, but after Waterloo and the restoration of the monarchy, Louis XVIII returned the mansion to the Orléans family. By then the wooden gallery sheltered sleazy sideshows and less expensive
filles de joie
. The new
duc
ended all that. Louis-Philippe cleaned up both palace and gardens and tore down the wooden gallery. When the 1830 revolution put him on the throne of France, he lived here for several years before moving to the Tuileries, so
le palais
was briefly royal again. With the prostitutes gone and gambling outlawed, the shops' popularity waned and
le Palais-Royal
began a long decline.
It would remain a sleeping beauty for over a hundred years. During this time artists and writers discovered it. Colette lived here twice, first in small rooms on the mezzanine from 1927 to 1929 and then, from 1938 to 1954, in a second-floor apartment in the Beaujolais gallery. Her friend Jean Cocteau lived above
66 Galerie de Montpensier
from 1939 to 1963.
Today
le Ministère de la Culture
occupies part of the former palace, the gardens are glorious again, and shops and galleries fill the arcades. A few that survived the long sleep including an amazing tobacconist's shop called
À l'Oriental
, behind
la Comédie Française
are still an attraction. Besides everything for the smoker, it offers an eclectic collection of small antiques and curiosities. Down the arcade are several venerable shops selling French and foreign military and civilian decorations, as well as
Drapeaux de France
, Flags of France, at
13 Galerie de Montpensier
, whose window displays of lead soldiers in battle formation are a magnet for little boys (and their fathers). A few dusty antique shops, rare books and stamp dealers remain, some of which are open only on weekends or by appointment.
The first sign that
le Palais-Royal
was waking up was the controversy surrounding Culture Minister Jack Lang's decision, in 1986, to install Daniel Buren's columns in the courtyard. This was years before
la pyramide
arrived at
le Louvre
, and many Parisians, including some at the adjoining
Conseil d'État
, were outraged at the idea of a modern installation of black and white striped columns in this lovely
XVIII ème siecle
enclave. But demonstrations and even lawsuits failed to dislodge it, and the controversy succeeded in pushing
le Palais-Royal
back into the spotlight.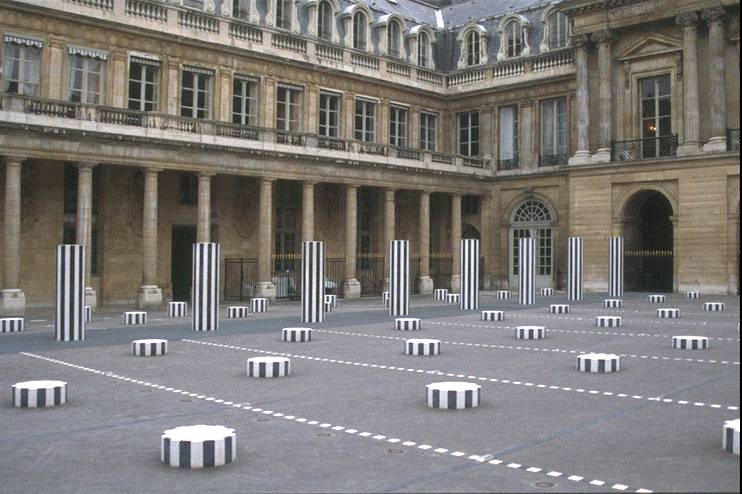 Daniel Buren's outrageous black and white striped columns defile the courtyard of le Palais-Royal.
Another poor excuse for "sculpture" defiling the courtyard of le Palais-Royal. Not surprisingly, this one is popularly known as (ahem) "The Royal Balls."
One of the first new businesses to move in was the city's most beautiful
parfumerie, les Salons du Palais Royal Shiseido
, at
142 Galerie de Valois
. Attracted to the place for its seclusion and other-worldliness, perfumer Serge Lutens created this jewel-box boutique with hand-painted walls and ceiling in 1992. Today it carries twenty-one of his exotic perfumes, some of which are available nowhere else.
Recent years have seen a new flock of high-end shops settling in this magical garden. Didier Ludot has several addresses:
20 et 24 Galerie de Montpensier
for vintage couture, and
125 Galerie de Valois
for his little black dresses.
La Galerie de Valois
also has
Le Prince Jardinier's
fancy gardening equipment and clothing at
numero 121, L'Eclaireur's
black-pearl jewelry and Italian housewares at 131, and Pierre Hardy's open-toed stilettos, favorites of Gwyneth and Madonna, at 156. Designer Marc Jacobs is scheduled to move into
la Galerie de Montpensier
by the end of 2005.
Not far from Charlotte Corday's cutlery shop, IBU Gallery, at
166 Galerie de Valois
, displays the work of the artist Irena Borenza Ustjanowski, who's known by her initials. She perished with her husband, famed breadmaker, Lionel Poilâne, in a helicopter crash several years ago. Her collaborator, Cyril Ermel, now presents her bold modern jewelry, sculpture and furniture. More art can be found outdoors, where
le Ministère de la Culture
(whose garden this is) has opened it up to changing exhibits.
Two charming shops in
la Galerie de Beaujolais
are right beneath Colette's former apartment.
La Boutique du Palais-Royal
, at
numero 93
, is packed with colorful playthings, from wooden tops to elaborate marionettes; next door, Anna Joliet is a tiny shop filled with music boxes that play everything from "La Vie en Rose" to "Hey Jude."
And what of Colette, who lived upstairs? She spent the last fifteen years of her life here, increasingly immobilized by arthritis but always writing. "We should not be unreasonably perturbed when our precious senses become dulled with age," she wrote. "More than once of late, turning my eyes from my book ... toward the superb quadrangle that I am privileged to view from my window, I have thought 'The children in the garden are not nearly so noisy this year.'" She died in her bed on
le 3 août 1954
. A state funeral was held in the courtyard of
le Palais-Royal
, within sight of her beloved country home in the heart of Paris.
(Colette was a French novelist born in 1873. She belonged in time, to the generation of such authors as Marcel Proust, Paul Valéry, André Gide, and Paul Claudel. Colette's career spanned from her early 20s to her mid-70s. Her main themes were joys and pains of love, and female sexuality in the male-dominated world. All her works are more or less autobiographical but Colette intentionally blurred the boundaries between fiction and fact. She wrote over 50 novels and scores of short stories.)
This post was adapted from
Paris Notes
and other sources.
More Reading:

Place in the World Called Paris