On this day: Robert de Clermont, founder of the House of Bourbon, died le 7 Février 1317
Coat of Arms, House of Bourbon
Robert de France
, who was born in 1256 and died on
le 7 février 1317
, was made
Comte de Clermont
in 1268. He was the son of King Louis IX of France and Margaret of Provence. In 1272, Robert married
Beatrice de Bourgongne
. Their son Louis was made
duc de Bourbon
in 1327. Robert de Clermont is considered to be the founder of the House of Bourbon, a family which governed as Kings of France (1589–1850) and Kings of Spain (1700–present).
The family took its name from
Bourbon l'Archambault
, a small town in central France. In France, the Bourbon rulers formed the third and final branch of the great Capetian line of French kings. The French Capetian kings included
Henri IV
. The greatest of the French Bourbon kings was
Louis XIV
.
In France. Bourbon kings reigned from 1589 to 1792 and from 1814 to 1848. The Bourbons ruled during the period of France's greatest influence on European politics and culture. They established the idea of absolute monarchy especially during the reign of Louis XIV (1643-1715). During Bourbon rule, French became the diplomatic language of Europe. France's overseas empire began under Bourbon kings.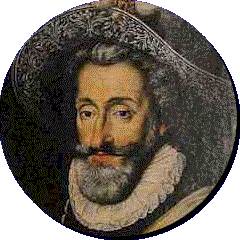 Henri IV, the first of the Bourbon kings of France
Henry IV became the first Bourbon king in 1589. He was a descendant of Robert de Clermont, a son of King Louis IX. Louis IX had ruled France from 1226 to 1270. Henry's descendants Louis XIII, XIV, XV, and XVI ruled until 1792, when
Louis XVI
lost the throne and was executed during the French Revolution. Louis XVI's brother, Louis XVIII, became king first in 1814, after Napoléon fell from power, and again in 1815, after Napoléon's unsuccessful return. Louis XVIII ruled until 1824 when Louis XVI's youngest brother, Charles X, succeeded him. Charles X was forced from his throne in 1830, and Louis-Philippe became king. Louis-Philippe was descended from Philippe d'Orleans, the brother of Louis XIV. Louis-Philippe lost the French throne in the Revolution of 1848.
Louis XIV, all wigged-out
In Spain, Borbón (the Spanish spelling) kings began to rule in Spain in 1700, after Charles II of Spain named a grandson of France's Louis XIV and of Charles's half sister Maria Theresa to succeed him as Philip V. This alliance between the two monarchies strongly influenced European power politics, and also brought French administrative practices into Spain. The Spanish Bourbon rulers included Philip V, Louis I, Ferdinand VI, Charles III, Charles IV, Ferdinand VII, Isabella II, Alfonso XII, and Alfonso XIII. The reign of Alfonso XIII ended in 1931 when Spain became a republic. In 1975, Spain became a monarchy again. Juan Carlos I, grandson of Alfonso XIII, became king.
Bourbons also ruled for a time in Naples and Sicily. In Naples and Sicily, Charles IV, son of Philip V of Spain, was the first Bourbon king, from 1734 until 1759 when he became King Charles III of Spain. His reign, one of the few successful "enlightened despotisms," was a period of political reform and cultural advancement. In 1759 at the age of 8, Charles's third son became King Ferdinand IV of Naples and Ferdinand III of Sicily. He was forced from the throne of Naples by Napoleon from 1798 to 1799 and again from 1806 to 1815. In 1816, he formally united Naples and Sicily as the Kingdom of the Two Sicilies, with himself as King Ferdinand I. He ruled until 1825. The other Bourbon rulers of the kingdom included Francis I, Ferdinand II, and Francis II. Francis II was forced from his throne in 1860. In 1861, the Two Sicilies became a part of the kingdom of Italy under King Victor Emmanuel.
Though it has only a whisper of the power it had under Louis XIV and is all but extinct in its native France, the house of Bourbon has survived to the present day world of republics. It seems likely that it will continue in Spain under Juan Carlos' son, Felipe, who officially became heir apparent when he turned eighteen years old in 1986.
Château Amboise, Val-de-Loire. The last of the French Bourbon kings, Louis-Phillipe stayed here.
More Reading:

When the King Took Flight

Man Who Sacked Rome: Charles de Bourbon, Constable of France, 1490-1527
Old Regime France: 1648-1788 (Louis la Vache regrets that the image for this book is not available.)