Les Ponts de Paris: Pont Neuf
Le Pont Neuf, the "new bridge," is the oldest in Paris.
(This is the second in a series about the bridges of Paris. The first was about Pont d'Austerlitz)
Le Pont Neuf, "the New Bridge," is the oldest bridge in Paris, but was the newest whem work started on it in 1578.
It was finished in 1606 under
Henri IV
, who laid the first stone for it and dedicated it upon its completion. For its age, it is extremely modern, even revolutionary if compared to the designs of bridges before it. As was typical of the time, all the other bridges in the city had been lined with high houses hiding the view of
la Seine
. The "new bridge," with its two spans connecting
l'Île-de-la-Cité
with the
rive gauche et le rive droit
became an enormous balcony spread over the breadth of the river. Parisians immediately understood the beauty and the importance of the bridge, and it became a meeting point and a place for a promenade. At the beginning of the
XVII ème siecle
,
le pont Neuf
became the birthplace of French comedy, since it was here that the famous Tabarin performed. Tabarin was the stage name assumed by the most famous of the Parisian street actors, Anthoine Girard (
c. 1584 – le 16 août 1633
), who amused his audiences with farcical dialogue with his brother Philippe, whose stage name was Mondor.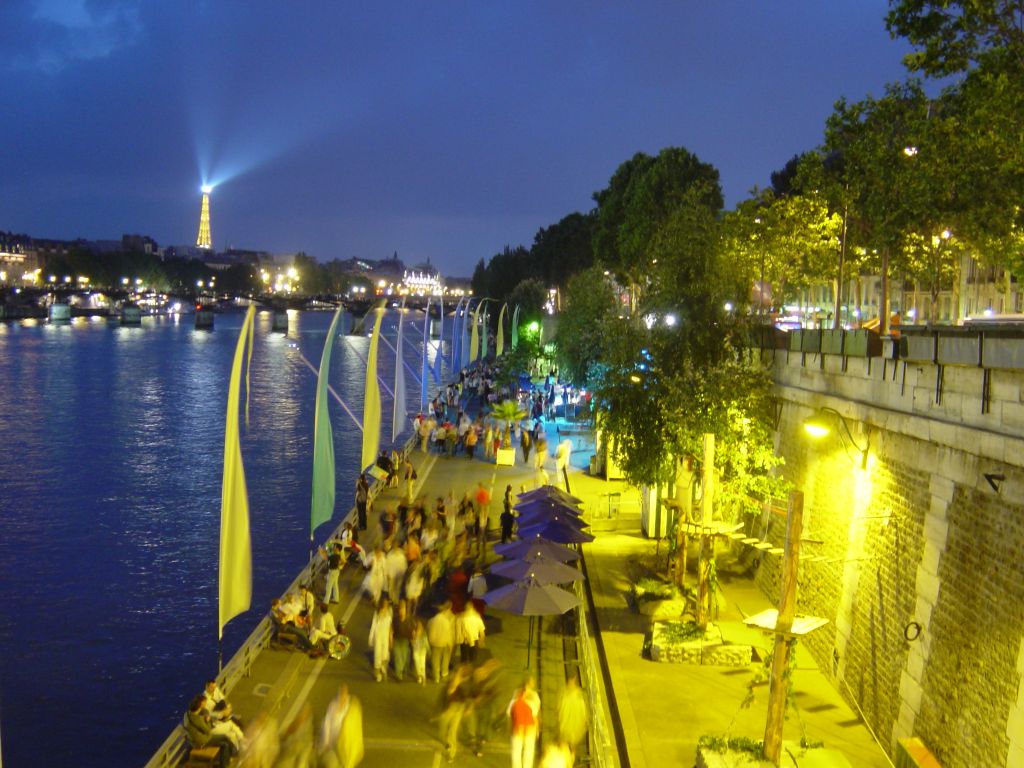 La Tour Eiffel and the walkway along the right bank seen from le pont Neuf. The walkway has been covered with sand for the annual Paris Plage, Paris Beach, when the walkway along la Seine is turned into a sandy beach!
The total length of the bridge is 278 metres, its width 28 metres. It is composed of two separate spans, one of 5 arches joining the south (left) bank to
l'Île-de-la-Cité
, another of 7 arches joins the island to the north (right) bank.
The Pont Neuf has small head-shaped sculpted decorations, as well as round places off the pavement so that passers-by can rest and watch the river.
Le Pont Neuf on the rive droit, right bank. The round places off the pavement allow passers-by to rest and watch the river. In the background is a statue of Henri IV and the Samaritaine department store.
As mentioned above, contrary to the habits of the time, the bridge was the first stone bridge in Paris not to support houses in addition to a thoroughfare, and was also fitted with pavements protecting pedestrians from mud and horses. The bridge had heavy traffic from the beginning. For many years it was the widest bridge in Paris. The structure has never been altered, although the bridge has undergone repair and renovation work. The wooden posts supporting the foundations are still the originals.
A bateau-mouche, passing under le Pont Neuf.
More Reading:

Bridges: A History of the World's Most Famous and Important Spans