On this day: Painter Édouard Manet was born, le 23 janvier 1832
Édouard Manet, autoportrait, 1879. Huile sur toile
Painter Édouard Manet was one of the first artists of the
XIX ème siecle
to approach modern-life subjects. His art bridged the gap between realism and impressionism.
Édouard Manet was Born in Paris on
le 23 janvier 1832
to Eugénie-Desirée Fournier (the goddaughter of the Swedish crown prince, Charles Bernadotte, from whom the current Swedish monarchs are descended) and Auguste Manet, a French judge. His father wanted Édouard to follow him into a law career, but Édouard was more interested in the arts. His uncle, Charles Fournier, encouraged him to pursue painting by often taking young Manet to
la Louvre
.
In 1850 after serving in
la marine marchande
, Manet studied in the studio of Thomas Couture until 1856. He was influenced by the old masters, particulary Velazquez and Francisco José de Goya, but Manet reasoned that ones art should reflect ideas and ideals of the present rather then the past. So disagreeing with Diderot's theory that great art only reflected the costume of the past, Manet sought instead to follow the advice of Baudelaire, "to depict a contemporary realism, to be
le peintre de la vie moderne
." Thus, Manet, in imitation of the then current style of realism initiated by Gustave Courbet, painted everyday subjects like beggars, cafés, bullfights, and other events and scenery.
It's worthwhile to note that it was during this time that Paris launched its massive revitalization and modernization of the city by
Baron Haussmann
under
Napoléon III
. Up until 1852, the city had retained its medieval infrastructure which was now most inadequate due to the growing urban population. Haussmann's revitalization efforts not only affected the physical environment of Paris but the cultural and social atmosphere as well. Thousands of jobs were created as streets were widened and lengthened, store fronts redesigned, buildings torn down and redeveloped all in an effort to make Paris the most beautiful and culturally progressive city in the world. It was this modernity with which Manet chose to concern himself.
Manet began his career with "The Absinthe Drinker" (1858), a painting depicting a debauched and solitary man amongst the shadows of the back streets of Paris. Paintings like "The Absinthe Drinker," and "The Old Musician" (1862), portray a darker aspect of Parisian life which was quite removed from Manet's circle, but nonetheless very real.
La Musique aux Tuileries
(1862) peopled with Manet's friends and family celebrates fashionable society. His loose handling of paint and lack of subject separated this painting from the highly finished canvasses approved of by the academy, and accepted by the Salon. In addition, the painting's ambience anticipates the "snapshot" quality taken up so well by Degas, and developed further by the Impressionists.
La Musique aux Tuileries
"Spanish Guitar Player", also painted in 1862, reflected the Parisian love of "all things Spanish" and was one of Manet's first works to be accepted by the Salon. It now hangs on the walls of the Metropolitan Museum in New York City. Manet put great emphasis on Salon acceptance. He believed that success as an artist could only be obtained through recognition at the Salon. Ironically, however, it was not :Spanish Guitar Player" which brought him his much sought after recognition but the rejected
Dejeuner sur l'herbe
(1863). The Salon jury of 1863 had been exceptionally brutal and had rejected some 4,000 paintings. To counter these refusals, the
Salon des Refuses
was established by Napoléon III and it was here that
Dejeuner sur l'herbe
, "Luncheon on the Grass," was exhibited. Although influenced by Raphael and Giorgione,
Dejeuner sur l'herbe
did not bring Manet laurels and accolades. It brought criticism. Critics found it to be anti-academic and politically suspect and the ensuing fire storm surrounding this painting has made
Le Dejeuner sur l'herbe
a benchmark in academic discussions of modern art. The nude in Manet's painting was no nymph, or mythological being. She was a modern Parisian women cast into a contemporary setting with two clothed man. Many found this to be quite vulgar and begged the question "Who's for lunch?" The critics also had much to say about Manet's technical abilities. His harsh frontal lighting and elimination of mid tones rocked ideas of traditional academic training. Manet's composition is derived from Marcantonio Raimondi's engraving "The Judgment of Paris" (c. 1510) after a drawing by Raphael. While many in the art establishment criticized the painting, it is also important to understand that not everyone was critical, for it was
Dejeuner sur l'herbe
which helped to set the stage for the advent of Impressionism.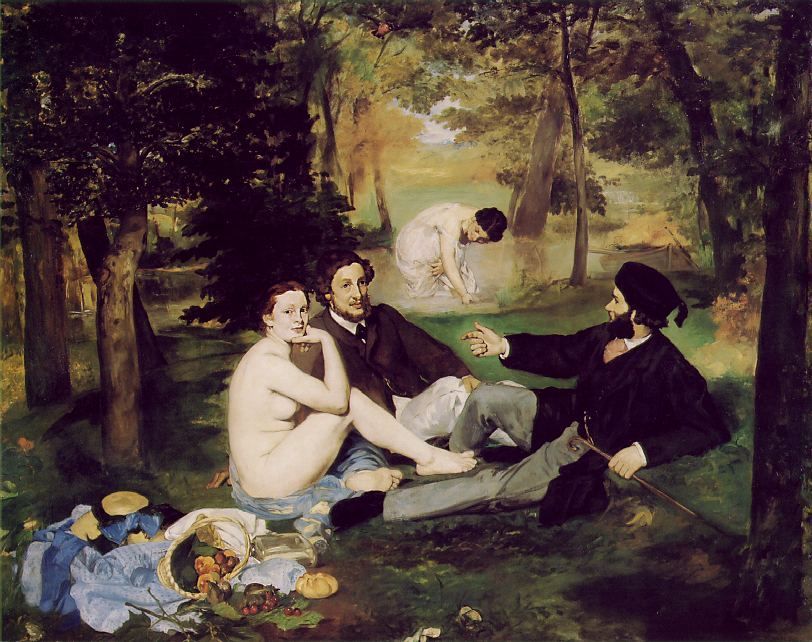 Le Dejeuner sur l'herbe
"Olympia," also painted in 1863, caused a similar uproar and the controversy surrounding these two paintings truly dismayed Manet. It was not at all his intention to create a scandal. Manet was not a radical artist, such as Courbet; nor was he a bohemian, as the critics had thought. Recently married to Suzanne Leenhoff, the well mannered and well bred Manet was an immaculately groomed member of high society. As Henri Fantin-Latour's Portrait of Manet suggests - this man was the quintessential Parisian
flaneur
. But Manet's unique technical innovations intrigued the likes of Pierre Renoir and Claude Monet and set free the traditional and conservative reigns of academic painting. Manet took respected works by Renaissance artists and updated them, as seen both in "Olympia" and
Le Dejeuner sur l'herbe
. In "Olympia" a is nude portrayed in a style reminiscent of the early studio photographs, but actually was based on Titian's "Venus of Urbino" (1538). The painting was seen as controversial partly because the nude is wearing some small items of clothing such as an orchid in her hair, a bracelet, a ribbon around her neck and mule slippers, she has a look of defiance as well. It also has a fully dressed servant next to her, the same effect of having a nude next to fully dressed people, as in
Le Dejeuner sur l'herbe
.
Olympia
By 1874 Manet's reputation as experimental artist and leader of the Impressionists was firmly established, although he never completely adopted the Impressionist style. The Cafe Guerbois, near Manet's studio became the gathering spot for Monet, Renoir, Sisley, Degas, Pissaro and Manet's painter sister-in-law, Berthe Morisot. Although Manet presided over the regular meeting and debates held at the cafe, he was not enthusiastic about his role as leader of the avant-garde. In 1874, when the Impressionists held their first exhibition at Nadar's studio, Manet refused to participate. He chose instead to remain focused on the Salon. He never exhibited in any of the eight Impressionist exhibitions but by no means did Manet abandon the Impressionists. He worked closely with Monet in Argenteuil during 1874 and often gave financial support to his friends who needed it. It was during this time that Manet came closest to painting in the Impressionist style. In his paintings
en plein air Argenteui
l and
Monet's Boat Studio
, Manet approached the notions of reflected light and atmosphere of Impressionism but he never became assimilated into the true Impressionist style.
In his last great masterpiece, "Bar at the Folies-Bergère" (1882), Manet returns again to studio painting, a somber palette and eliminated mid tones. The cafe concert is a theme which Manet had been treating in the late 1870s in paintings such as "Corner in a Cafe Concert" and "The Cafe." But here at "Bar at the Folies-Bergere," we are no longer spectators, but participants in the painting. While the barmaid occupies the center of the piece, the painting is filled with a menagerie of characters from seated couples to trapeze artists. Glittering chandeliers and electric lights fill the upper portion of the work. Here, as in
Dejeuner sur l'herbe
, optical contradictions abound. (Folies-Bergère is in the
Place Pigalle - lower Montmartre
area of Paris and was also frequented by
Toulouse-Lautrec
.)
Bar at the Folies-Bergère
Manet died in Paris on
le 30 avril 1883
of untreated syphilis, which caused much pain and partial paralysis from locomotor ataxia in his later years. His left foot was amputated because of gangrene 11 days before he died. He is buried in
le Cimetière de Passy
, Paris.
More Reading:

Manet: The Influence of the Modern

Edouard Manet: Rebel in a Frock Coat