Merci, Baron Haussmann, for The Shape of Paris!
Georges-Eugène Haussmann: the elegant Haussmann influence on Paris is as strong today as it was 150 years ago.
The year
Napoléon III
appointed Georges-Eugène Haussmann to be his
Préfet du département de la Seine
, Paris as we know it today did not exist. Haussmann truly invented the city we now love. In 1853, his first year as
Préfet
, Paris was medieval, its crumbling walls barely able to contain its exploding population of one million. Walking the streets of Paris was dangerous: there were no sidewalks to protect pedestrians from omnibuses and horses. Streetlights were rare. Frequent shouts of
gare à l'eau!
gave warning that the contents of a chamber pot were about to be flung out a window, onto the heads of passers-by. The streets themselves were often uneven, as the cobblestones were routinely torn up and used as weapons. During times of unrest, an overturned cart or even an armoire dragged from a ground-floor apartment was enough to barricade the road.
Even inside the home, living conditions for Parisians were dire. Paris had no regulations for ventilation or light; we can think with horror of New York's Lower East Side tenements at the turn of the
XX ème siecle
, but even more squalid conditions existed in Old Paris. Since there was no proper plumbing, latrines built into the stairs emptied directly into back passages. Nostalgists describe beautiful gardens and aristocratic mansions torn down by Haussmann, but such space existed only in the wealthiest outer regions of the city. The core of Paris was crowded, dirty and virtually treeless.
Haussmann was the man who changed the city and created the Paris we know and love today. Haussmann was a determined man: even his title, Baron, was something he dusted off from an elder relative. He convinced Napoléon III to allow him to use this non-hereditary title. Many men had dreamt of improving Paris before Haussmann. The great writer-philosopher of the 18th century,
Voltaire
, had called for wider streets, public fountains and an improved central market. After the Revolution,
Napoléon I
had wanted to reorganize the city, but his time was spent abroad, leading battles. When his nephew, Louis-Napoléon, ascended the throne in 1852 (seizing power in a relatively bloodless coup), he was determined to create an elegant, Imperial city. He wrote up elaborate plans—maps used in the renovations were marked in the Emperor's own handwriting. The man Napoléon III chose to carry out his vision of rebuilding Paris was Georges-Eugène Haussmann.
Napoléon III et Haussmann: builders of the new Paris
Haussmann was a perfect choice for the task. Napoléon III wanted a modern city: Haussmann agreed with him and brought solid experience to the job - he had already spent 22 years as
Préfet
in different provinces of the country, upgrading roads and schools. Napoléon III needed a man who could organize vast labor crews, oversee complicated finances and, perhaps most important, remain loyal to the Emperor. Haussmann had all of these qualities and more. He was over six feet tall, a broad-shouldered, good-looking Protestant bourgeois with prodigious energy and ambition. Haussmann's family had come from
Alsace
, thus the German name, but he had been raised and educated in Paris. Haussmann had suffered asthma from its pollution, and like so many others, he remembered the horrible cholera epidemic that had killed 20,000 Parisians in 1832. He understood why Paris needed to be redesigned.
Haussmann also understood the Emperor's political motivation for the redevelopment: Paris was an unstable capital. Only a few years before Napoléon III launched the Second Empire, a vicious fight between troops and working-class protestors had left 4,000 Parisians lying dead in the streets. Living conditions were so bad that the inhabitants often felt there was no choice but to revolt, and within the medieval-style city, insurrection was easy and bloody. With this in mind, Napoléon III began the redevelopment with political, even military, considerations: streets leading to crucial parts of the city would be widened and made straight, more suitable for defense by government troops. These changes were called "strategic embellishment," and some of Haussmann's first responsibilities were to elongate Rue de Rivoli, Boulevard Strasbourg and Rue des Ecoles.
Avenue de la Grande Armée, one of Haussmann's twelve grand avenues radiating from the Arc de Triomphe. La Défense and the Grande Arche (the hollow white cube) can be seen on the horizon. Note that there are no skyscrapers in this view of Paris. The skyscrapers are outside of the city limits. Building heights in Paris are regulated by law, part of the Haussmann heritage.
The renovation of Paris was much more than military, however. The Second Empire used its public works as an engine to encourage the economy and to publicly declare Paris a modern city. Haussmann was engaged to redesign the
Bois de Boulogne
as well as to rethink the central market,
Les Halles
.
The job was massive, and Napoléon III gave Haussmann a free hand. Haussmann soon found himself working from 6am to nearly midnight, whereupon he would change into a glamorous uniform and host elegant receptions at the
Hôtel de Ville
. The renovations began to depend entirely on Haussmann's personal abilities; he wrote in his journal, "I cannot abandon this new project, a work which I incarnate and which is far from being complete, a work which risks failure in less capable hands."
This was not an idle boast: no one else was able to be everywhere at once, inspiring not only an army of 14,000 laborers, but also devising an ingenious way of selling bonds to small investors in order to finance construction. Since Napoléon III knew that people would resist direct taxes for public works, Haussmann devised a brilliant plan to regulate the price of bread. He created a new organization to tax flour; the surplus tax went into building works. Thus bread provided the "bread" to pay for the new Paris! (At the time, Parisians ate an average of 900 grams per capita of bread a day - almost two pounds; vs. an average of 200 grams per capita, about 7 ounces, today.) Although accused of financial shenanigans, Haussmann was resolutely honest. Unfortunately, others had no such scruples, and real estate speculators made huge profits during Haussmann's time, often using leaked information from the Préfet's office about which buildings were to be expropriated and knocked down.
The buildings we associate most strongly with Paris are Haussmann's creations. His construction laws governing building height and street width literally invented the typical Parisian apartment. He took inspiration from Palladio, who insisted on proportional relationships in an urban landscape. Haussmann decided that street widths would be specified with differing building heights (buildings on 7.8-meter-wide streets would be 11.7 meters high, versus 20-meter-high buildings for streets 20 meters wide or greater). A building was limited to no more than six floors. (Seven floors by the U.S. way of counting. The French do not count the ground floor; what in the U.S. is called the second floor is counted as the first floor in France.) Haussmann's decree of 1859 also demanded that buildings' floors be a minimum of 2.6 meters high, with chimney dimensions regulated for safety. Each new block was encouraged to keep a visual standard, aligning building moldings to give a gracious,
well-organized
look to the street.
Typical Haussmann-era building viewed from the steps of Sacré-Cœur, 18 ème arrondissement
L'immeuble haussmannien
is the ultimate Parisian building, essentially a scaled-down version of the old aristocratic hôtel particulier, or mansion. While Haussmann made no attempt to control the inside layout of his new apartment buildings, his ceiling restrictions and façade codes essentially dictated their interiors. The style used the latest urban innovations of the time: elevators, running water and gas for every floor. Following Haussmann's obsession with clean air and light, courtyards developed between different segments of the building. This allowed sunlight into rear rooms, a crucial improvement, since only the front reception rooms were equipped with gas for lighting. In the Haussmann style, the second floor was the "noble floor," easy to access by stairs but above the ruckus of the street; this floor usually had the highest ceilings in the building and was the most desirable. Fifth floors were also favored in buildings equipped with elevators: they offered good views of the city. Because of their special popularity, the second and fifth floors were given balconies; today their iron railings throw beautiful patterns against the buildings' gold stone.
The Haussmann style was designed for the middle class, a segment of the Parisian population that grew massively throughout the
XIX ème siecle
. The expanding bourgeois was wealthy enough to want elegance but could not afford a mansion. The new buildings were perfect: multiple well-lit rooms with generous entrance halls, wooden chevron floors and marble mantles. The wide streets soon became very desirable addresses.
Typical Haussmann-era Paris doorway, 6 ème arrondissement
While these apartments were affordable for the developing bourgeois class, the poorer inhabitants of Paris found themselves pushed out of the downtown, unable to cope with the elegant buildings' rents. This seems to have been part of Haussmann's plan. He wrote bitter letters to his direct superior, the Minister of the Interior, Persigny, complaining that the masses should be moved out from the city center, as it was impossible to build a shining modern city on streets crowded with wretches. Haussmann's workers tore down the appalling slums of
Île de la Cité
, along with the ramshackle tenements that teetered around the walls of
la Louvre
. But Haussmann resolutely ignored the poorest parts of the city that weren't downtown. Areas such as Belleville, La Chapelle and Vaugirard were not centrally located, yet these zones had recently developed into impoverished industrial ghettos; Haussmann did nothing to directly alleviate the plight of those living there.
The actual infrastructure of the city began to change. Paris was under construction day and night, since newly invented electric lights allowed Haussmann's workers to follow directives 24 hours a day. Parts of the new city emerged from behind their scaffoldings, while deep underground, a highly sophisticated sewer system was being developed. This included pipes for fresh water to be plumbed into the new buildings, eliminating the ghastly latrines of Old Paris.
Clean water, clean streets and a grand new series of parks: these were the broader legacies of Haussmann's reforms. The parks were the most popular feature of the new city. Initially, when Haussmann became
Préfet du département de la Seine
, he was given the task of renovating the Bois de Boulogne. The Bois at this time was in terrible shape, its lands untended, its woods truly wild and dangerous. Looking at the Bois, Napoléon III thought back to Hyde Park, for he had spent many happy times in London during his youthful exile there. Keeping his Emperor's preferences in mind, Haussmann personally oversaw the plans, putting the two lakes in place, along with small buildings and pathways. He brought an old friend, the brilliant landscaper Alphand, up from Bordeaux, and the result delighted Parisians. The Bois de Boulogne, the
Bois de Vincennes
, Parc Montsouris,
Parc Buttes-Chaumont
and innumerable small park squares all appeared during the urban works of Baron Haussmann. Pre-Empire Paris had only 47 acres of gardens; by the end of the Haussmann period, there were 5,000 acres of public parks.
Despite the obvious improvements in quality of life, Parisians became disillusioned with Haussmann's never-ending demolitions. Nick-named L'Eventreur, the Gut-Ripper, the Baron was wrongly accused of financial misdoings. In 1870, after 17 years as Prefect, Haussmann was betrayed by Napoléon III, whose own political fortunes were declining, allowed Parliament to force Haussmann's resignation. Yet for several years, Haussmann's influence endured, as associates like the landscaper Alphand and engineer Belgrand continued his plans.
The Napoléon III - Haussmann building boom brought about such splendid projects as L'opéra Garnier
Walking in Paris today, you can see Haussmann's handiwork everywhere. Tiny details, such as the blue plaques for street names, or the hinged gates at the entrance to each park, are all part of Haussmann's grand concept. The only contemporary change is that many of the apartment buildings built during Haussmann's time have now become offices, imperfect in layout for businesses but still bright and conveniently located, appreciated by those who work in them.
Tiny details, such as the blue plaques for street names, are part of Haussmann's grand concept.
Parisians still prefer Haussmann-style apartments above all others: the apartments are coveted for their high ceilings and well-lit rooms. They are solid enough to survive change; entire walls can be removed in apartments, creating loft-like living rooms, and entire parking garages have been excavated below Haussmannian buildings, with no structural damage. The popularity of the style is underlined by the many new buildings that emulate the Haussmann code, with balconies on the second and fifth floors, traditional layouts, and tall windows, appropriate for the long gray days of Paris winters.
Typical Haussmann-era Paris building, 6 ème arrondissement. Note the balconies.
Haussmann died in 1892, but Haussmann-style buildings continued to appear in Paris until 1913, with an incredibly enduring influence on the way Parisians live. After 1882, the rigid strictures governing height and style were relaxed, increasing the number of floors a building could have and allowing flamboyant windows, extra balconies and over-wrought caryatids across the façade. Some of the most gorgeous Haussmann-style buildings date from this later period. These façades are filled with sculptural detail, their architect's name in elegant script near the front door, as if the front of the building were a signed painting. Haussmann no doubt would have frowned at this exuberance. But no other Western capital so clearly owes its beauty to one man. Haussmann himself put it best, writing in his memoirs:
"As long as Paris lives, my name will be engraved on every stone."
Les Grands-Magasins Printemps et Galeries Lafayette were built in the Haussmann-era along the Boulevard named for him.
More Reading: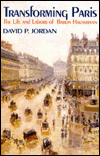 Transforming Paris; The Life and Labors of Baron Haussmann

Walks Through Lost Paris: A Journey Into the Heart of Historic Paris

Haussmann: His Life and Times and the Making of Modern Paris