Les sites de Paris: L'opéra Garnier
The
Palais Garnier
is a grand landmark at the northern end of
L' avenue de l'Opéra
in the
9 eme arrondissement
of Paris. It is regarded as one of the architectural masterpieces of its time. Built in the Neo-Baroque style, it is the thirteenth theatre to house the Paris Opera since it was founded by Louis XIV in 1669. It was often also called the Paris Opera, but since the building of the (horribly ugly in the opinion of Louis la Vache)
opéra Bastille
in 1989, it is referred to as
L'opéra Garnier
. It was built on the orders of Napoléon III as part of the great Parisian reconstruction project carried out by
Baron Haussmann
. The project was put out to competition and was won by Charles Garnier (1825-1898), a then unknown 35-year-old architect. He would go on to also build the Opéra Garnier de Monte-Carlo in Monaco. Building work, which began in 1857 and finished in 1874, was interrupted by numerous incidents, including the Franco-Prussian War (1870 - 1871), the fall of the Empire and the Paris Commune. Another problem was the discovery of an underground lake beneath the site. This required the construction of an underground reservoir below the building. This lake later inspired The Phantom of the Opera's lair. The
Palais Garnier
was formally inaugurated on
le 15 janvier 1875
. Napoléon III was overthrown while
L'opéra Garnier
was still under construction. The entry at
L'opéra Garnier
being built for Napoléon III's carriage was left functional but dectoratively unfinished. During the construction of the Paris Métro, the existence of a legendary river, the Grange-Bateliére, was disproved. It had been thought to flow past land near
l'opéra de Paris
. The large building has a total area of 11,000 square meters (118,404 square feet) and a huge stage with room to accommodate up to 450 artists. An ornate building, the style is monumental, opulently decorated with elaborate multicolored marble friezes, columns, and lavish statuary. The audtorium is rich with velvet, gold leaf, and cherubs and nymphs.
Red velvet and gold in the auditorium
The auditorium's central chandelier weighs over six tons, and its ceiling was painted in 1964 by Marc Chagall.
The Chagall ceiling
The sweeping central stairway leading to the audtorium were designed to be a place for elegant Parisian women to be seen in their finest.
The sweeping central stairway to the auditorium.
Legend has it that the Empress Eugénie asked Garnier whether the building was to be in Greek or Roman style to which he replied: It is in the Napoléon III style Madame! Since the opening of
L'opéra Bastille, L'opéra Garnier
is used mostly for ballet performances.
Left and right roof sculptures
Ceiling detail
Topless at the opera!
Grand foyer
More reading:

Charles Garnier's Paris Opera: Architectural Empathy and the Renaissance of French Classicism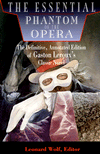 Essential Phantom of the Opera: The Definitive Annotated Edition of Gaston Leroux's Classic Novel