Postcards from Paris...Paris Perspectives
In 1852 when Napoléon III came to power he appointed
Baron Haussmann
, a civil engineer, as his
prefet de Paris
. Haussmann's orders from Napoléon III were to "turn Paris into a city worth of my empire." The streets were narrow. There was no sewage. The medieval wall, though crumbling, still girded Paris. There were few parks. Haussman changed all of that. Most streets were widened. A "hub and spoke" system was implemented on the streets, not only to facilitate the movement of traffic, but (ahem) should the need arise, facilitate troop and artillery movement into the city. The wall came down. Sewers were installed. Parks, hundreds of acres of parks, were planted. Major streets such as the
Champs-Elysées
were lined with trees. Natural gas was piped into buildings for the first time, and this had a significant effect on the new shape Paris acquired under Haussmann. In bringing natural gas into the buildings, it was discovered that the technology of the time limited how high the gas efficiently could be piped. That limit was seven stories by the U.S. way of counting building floors, six by the French method. (In France, the ground floor is called the
rez de chaussée
and what in the U.S. is called the "second floor" in France is the
premier étage
, the first floor.) Part of Haussmann's genius was in his sense of scale and proportion. The technological limit of how high gas could be piped into a building worked to Haussmann's advantage in giving Paris the
look
it now has: Haussmann decreed that if a street was
x
number of metres wide, then the buildings on that street must be no more than
y
metres tall. That law remained on the books for over a century. The building of
la tour Montparnasse
and monstrosities such as the tower surrounded by what appear to be foreboding and grim prison cell blocks at the
Université de Paris - VII
in the
5 eme
led to a public outcry against skyscrapers. In 1973 a law was passed prohibiting the construction of skyscrapers in Paris. At 59 stories,
la tour Montparnasse
was for many years the tallest building in Europe. Here, courtesy of Baron Haussmann, are some perspectives of Paris.
A couple of roller bladers on a street on Île-Saint-Louis.
Haussmann-era buildings on Île-Saint-Louis looking south from Quai de Bourbon. La Seine is to my back.
Rue-Saint-Louis-en-Île, 4 eme. Église-Saint-Louis-en-Île is on the left.
A view down rue-Saint-Denis near Forum des Halles in the 1 er. Note the church steeple in the distance.
More reading: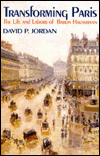 Transforming Paris; The Life and Labors of Baron Haussmann

Haussmann: His Life and Times and the Making of Modern Paris