On this Day: le 18 novembre....
Photographer Louis Daguerre was born.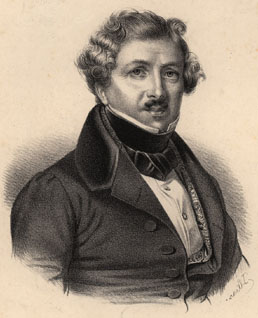 Louis Daguerre, a French stage designer and painter who introduced the first popular form of photography was born on this day in in Cormeilles-en-Parisis, near Paris in 1787. He became a talented theater artist and operated a scenery theater called the Diorama in Paris. There he displayed huge painted scenes from nature, using lighting to create the illusion of changing views. A desire to improve these scenes led him to work with J. N. Niepce, a French scientist who had invented the first practical photographic technique. Experimenting with this technique, Daguerre perfected what came to be called the "daguerreotype process" in 1837. The permanent mirrorlike images produced through the process brought him worldwide fame. Daguerre's process involved treating a thin sheet of silver-plated copper with fumes from crystals of iodine to make the silver plating sensitive to light. The sheet was then placed inside a camera and exposed to light through the camera lens for 5 to 40 minutes. After the sheet was removed from the camera, it was developed by vapors from heated mercury. The mercury combined with the silver at the points where it had been affected by light, and formed a highly detailed image. The image was then fixed (made permanent) by treating the sheet with sodium thiosulfate. Daguerre first published a description of his process in 1839. The process was soon improved by other inventors. By 1841, for example, the exposure time for the photographs had been reduced to less than a minute. Daguerreotype portraits were tremendously popular during the 1840's and 1850's, especially in the United States. The daguerreotype was eventually replaced by other processes. People now collect daguerreotypes of particular
beauty
or unusual subject matter. Daguerre died on 10 July 1851 in Bry-sur-Marne, 12 km from Paris. A fine monument marks his grave there. Daguerre had lived in Paris on
Île-Saint-Louis
on
quai de Bourbon
. Louis la Vache regrets that he did not take a picture of the plaque marking Daguerre's home - fading light made the shot too difficult on the day Louis was taking pictures of the historic plaques on that charming little island in
la Seine
.
More reading:

Louis Daguerre: and the Story of the Daguerreotype (Uncharted, Unexplored and Unexplained Scientific Advancements of the 19th Century Series)