Les Arrondissements de Paris
Part Two (of Four)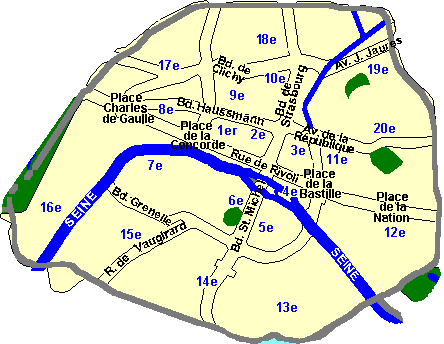 Yesterday we began uncurling
le escargot
of the Paris
arrondissements
, covering
le 1èr à le 5ème
. Today's meanderings will take us from the
6ème à le 10ème
.
On-y-va!
6ème
Saint-Germain-des-Prés
. Once the hangout for bohemians and intellectuals, this neighborhood has undergone gentrification and is now very
bcbg - bon chic bon genre
- that's "yuppy" to you, Yank. Existentialist writer and communist
Jean-Paul Sartre
and his lover
Simone de Beauvoir
used to "hold court" at
Café de Flore
here. Upscale boutiques, art galleries, and restaurants now can be found throughout this district. Nordstrom operates one of their european
Façonnable
boutiques on
Boulevard Saint-Germain-des-Prés
. There are many shoe stores, antique stores and antique booksellers in the district. The
6ème
is also home to
Palais Luxembourg
, home to the French
Senat
and the
Jardin du Luxembourg
, one of the most beautiful and popular parks in Paris.
L'église-Saint-Sulpice
has been a fixture in the
6ème
for a thousand years.
7ème
The
7ème
is home to
la tour Eiffel
and
le Musée d'Orsay
.
Le Musée d'Orsay
was built as a train station, converted to a museum and now specialises in the art of
les impressionistes
Many international residents can be found in this very wealthy neighborhood, not surprising in that many embassies are found here as is the home of the
gouvernement Français*
along
le quai d'Orsay
. * Pictured: Ministry of Foreign Affairs (the counterpart to the U.S. Department of State).
8ème
This upscale neighborhood is in fact quite diverse. The area around
Avenue-des-Champs-Elysées
, one of the most famous streets in the world, has lots of shopping and lots of tourists, while in the area to the east, between
Avenue-des-Champs-Elysées
and
Place de la Madeleine
you will find a mixture of
Haussmann
-era buildings intermingled with businesses.
9ème
The
9ème
is a diverse residential area popular among an artistic crowd, that fact being something of a spill-over from the neighboring
18ème
, which has for years attracted artists. Ths southern portion is similar to the
2ème arrondissement
, with a mix of residential and business buildings. The stunningly beautiful
Opera Garnier
is located here. Farther north is
Place Pigalle
, the fading Red Light district, as well as the famous
Moulin Rouge
, The Red Mill, which opened in 1896. Moving away from
Place Pigalle
and back toward
l'opera Garnier
is
boulevard Haussmann
, named after
Napoléon III's Préfet de Paris
whose genius as a civil engineer gave Paris so much of her beauty and charm. On
boulevard Haussmann
are
les grands magasins
, department stores such as
Galeries Lafayette
and
Printemps
.
10ème
Two great train stations in Paris are in the
10ème
,
le Gare de l'Est
and
le Gare du Nord
. As you would expect from it's name,
Gare de l'est
serves eastern France and connects with Germany. From
Gare du Nord
, one may travel from Paris to Lille and other cities in northern France as well as visit Belgium, Holland and Scandinavia. This varied neighborhood also contains a bohemian element.
À demain
we will visit
le 11ème à le 15ème
.